A deep draft is necessary for seakeeping in strong waves. A shallow draft is necessary for unloading vehicles on a beach. Why compromise? Why not have both?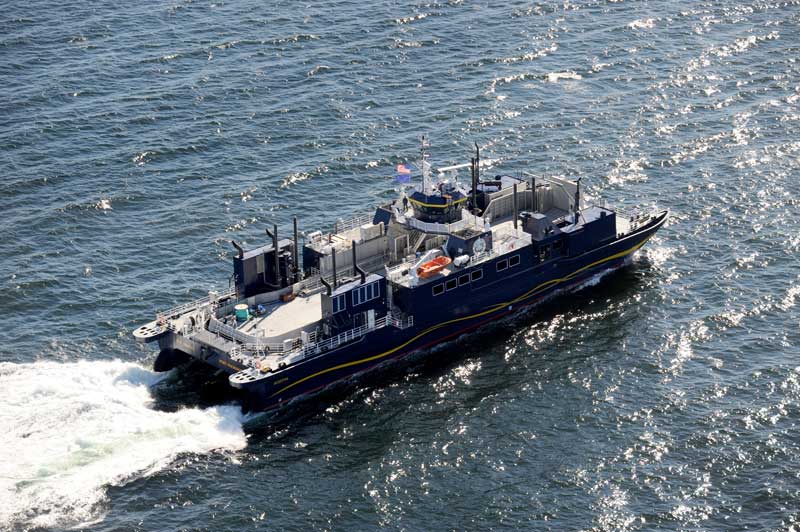 That's what the US Navy and Marine Corps wanted and that's what they received with this experimental variable draft Expeditionary vessel (E-Craft), detail designed by Guido Perla & Associates Inc. The venerable naval architecture and marine engineering firm used ShipConstructor CAD/CAM software in creating the Production Design for this innovative vessel.
The Mat-Su Borough in Alaska also became involved in the project because they needed a ferry that could land at both established docks and at remote beaches on Knik Arm and Cook Inlet. They also decided to throw in another level of complexity. They wanted the ship to be an icebreaker too.
The E-Craft is one of the most complex surface vessels every built. At first, Guido Perla himself was hesitant when told about the project by shipbuilder, Alaska Ship & Drydock.
"It was a challenge because this had never been done before," he said. "It was a challenge to keep the vessel within the estimated weight that it could have. You have regulations for a passenger vessel, you have classification requirements, and you have strain requirements for the structure for ice-breaking. You have to understand that this is the first-ever twin-hull SWATH that is an ice-breaker. Nobody has done that before. That was a very pioneering thing. We had to stretch everything because there was no record.
"We had to work very closely with the American Bureau of Shipping because they didn't have anything applicable for a vessel like this," Perla continued. "And any other classification didn't have anything applicable."
When operating in deep draft mode, the middle section, which is made from aluminum, sits high above the water, flush with the passenger compartments on both sides of the vessel. At this point, it's essentially a deck suspended between the two hulls.
But when a pair of 50-hp electric motors energize the hydraulic system, the center deck section can be lowered 21 feet. As the deck is pushed into the water, it becomes a hull with significant flotation. At the bottom of its travel, the twin hulls on each side have been pushed up from a draft of about twelve feet to only four foot six. You then drive the ship's nose onto the beach, the bow door opens and tanks or trucks can roll off.
The Mat-Su Borough has christened their new ferry, the Susitna and SSI is proud to be associated with this innovative project. "ShipConstructor prides itself on the power and usability of its shipbuilding-specific CAD application, especially when it comes to structural modeling," said SSI CEO Darren Larkins. "The complexity of the Susitna E-Craft demonstrates that our software can handle even the most demanding projects."