Modern shipbuilding projects take place on an unrivaled scale. When thousands of parts, actions, and tasks are worked on by multiple teams, sometimes from across the world, it can be challenging to maintain a clear picture of a project's status.
With SSI 2020 R1.1, we have focused on making improvements that help uncover insight into your projects. Exploring project changes with just one click, improved speeds when working across distributed teams, advanced administration features, and detailed Project Insights reporting all work together towards that goal.
---
Tasks in ShipExplorer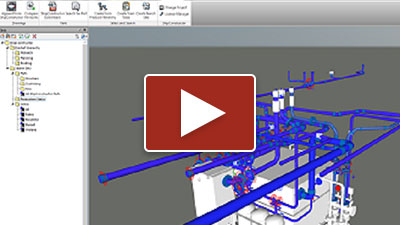 Reviewing changes made in projects is often a hugely laborious process. The introduction of ShipExplorer in SSI 2020 allowed for more insight than ever to be gathered from ShipConstructor files in Navisworks. Comparing revisions, managing licenses, and switching between projects became possible. With SSI 2020 R1.1, you can now view those changes across a project with just one click.
Through the addition of pre-defined search sets, selection sets, parts search, and zoom options you are now able to:
Load and view specific components as they are updated.
Quickly view the location of each component through the project lifecycle.
Easily see changes made by any user or group.
Search for parts and modifications by task.
Toggle "Zoom-to" and "Isolate" parts on and off.
Understanding the changes occurring within your projects is crucial to maintaining insight into its status. ShipExplorer gives you the power to do so at a glance and through simple easy steps.
---
Enhancements to Clashes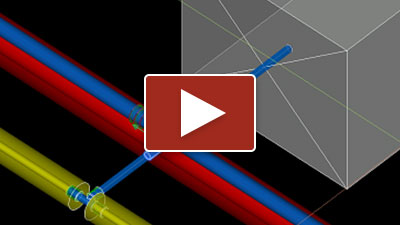 Interference issues that occur on the production floor are costly and can result in a project that is over budget and past deadlines. Understanding this, we have further improved clash detection within ShipConstructor.
For SSI 2020 R1.1, Clash Detection has been expanded and simplified to include:
Local Clash Support for AutoCAD Solids.
Local Clash detection for Pipe Supports.
The detection of insulation within pipe and HVAC systems.
Minimum clash volume settings that are defined project-wide.
Pipe Specs that can now be imported from Catalogs between projects.
By allowing you greater control over how you manage clashes, ShipConstructor 2020 R1.1 minimizes the risk of downstream errors adding risk to your projects.
---
Faster When Working with Distributed Teams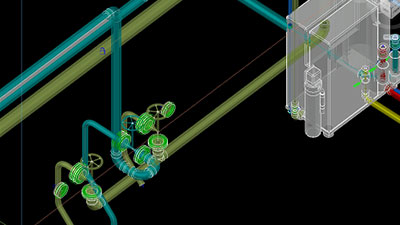 Shipbuilding is a global industry. Increasingly, we're seeing organizations work with disparate teams located around the world. While working with a global team can bring huge competitive advantages, the risk of imperfect collaboration is ever-present. To identify and mitigate this risk, SSI conducted a variety of in-depth performance investigations intended to improve the performance and user experience for those working with distributed teams.
In SSI 2020 R1.1, organizations working with distributed teams can expect improved:
Loading speeds during Product Hierarchy refresh operations.
Loading speeds when switching between primary and secondary Product Hierarchy tabs.
On-demand loading of the Product Hierarchy when the Current Unit Only functionality is checked.
Working within a multi-site, multi-organization environment will never be without risk. Any improvement that can be made in coordination, speed, and collaboration is an advantage.
---
Project Insights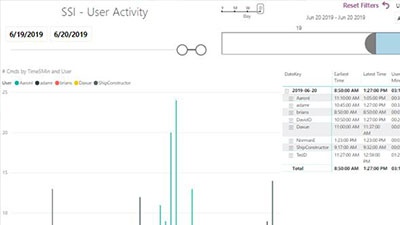 Anything that jeopardizes meeting the next milestone is unacceptable. Without a clear understanding of your project, it can be difficult to know exactly what needs to be done to stay on schedule. Project Insights in SSI 2020 R1.1 allows those interested in a project's status to:
See a detailed snapshot of the current project.
View progress reports in all project areas.
Generate customizable PowerBI reports.
Optionally load Part Data.
See a time breakdown based on drawing types.
Users are already making great use of Project Insights. We love seeing the extensive reports being generated and used to ensure projects stay on schedule.
Continued Multi Hull Solution Development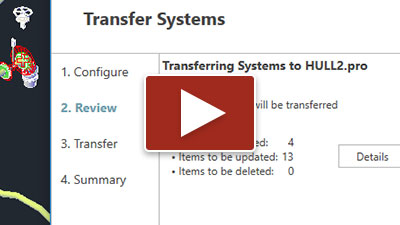 Managing change across ships of the same class is one of shipbuilding's toughest challenges. SSI's ongoing Multi Hull management initiative allows you to reuse work and manage changes between sister ship projects. With SSI 2020 R1.1, the Subscription Advantage Pack now provides you the capability to:
Transfer and update systems and branches between projects (client requested) and,
Transfer MarineDrafting and Output drawings across projects (client requested);
New UI for Transferring Assemblies across projects (client requested);
Import Pipe Specs from Catalog across projects.
And Much More
SSI 2020 R1.1 also features additional administrator improvements, Windows Server 2019 support, and many more new updates. In addition, all 10 parts of SSI Project Zero, our novice training program, have been uploaded to SSI Nexus.
Learn More
These enhancements, along with many others in the SSI 2020 R1.1 release, are aimed at ensuring that you are in control of your projects. To get access to a first look at the latest features in SSI 2020 R1.1, register for our webinar on August 22 at 8am PST.
Learn more and download the SSI 2020 R1.1 release.