No two shipbuilders are the same, but many of the challenges their departments experience on a day-to-day basis are. With the release of SSI 2020 R2, we've tackled some of those challenges head-on. Our teams have made huge improvements in how change is managed across multiple hulls, clashes are identified and resolved, and project work is assessed and reviewed.
Manage Change Across Multiple Hulls
One of the greatest challenges in shipbuilding today is managing changes across a series of hulls. When collaboration across organizations is involved, the challenge of managing those changes is compounded, even when working on a single hull.
With the new, built from the ground up, WorkShare Transfer feature included with the release of ShipConstructor 2020 R2, you can save time by selecting only the items you need and transferring them directly to the other project, allowing you to re-use the exact work required on-the-fly across projects, hulls, and organizations.
Updating and synchronizing projects to facilitate change order requests now takes just minutes, in part because there is no need to disconnect users from the project to do so.
Transfer is already being incorporated into critical workflows on some of the most complex classes of ships. As a result, these firms are minimizing rework and producing deliverables more quickly thanks to their access to this fast and efficient sister ship solution.
Transferring Across Projects by Task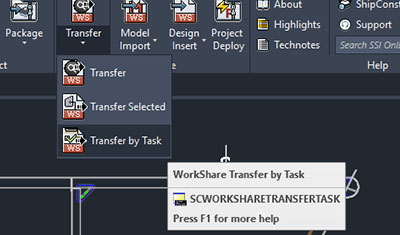 Better understanding what work needs to be done and communicating that work to stakeholders is crucial to a healthy change management workflow. One of the best ways to do that has been with ShipConstructor Tasks. With ShipConstructor 2020 R2, we've made Tasks even more powerful for shipbuilders who concurrently work on multiple similar hulls.
When using ShipConstructor Tasks, you can now transfer work on production drawings and systems changes between local projects using WorkShare Transfer, adding to the previously released functionality allowing for parts transfers based on a Task.
Resolve Difficult Clashes Early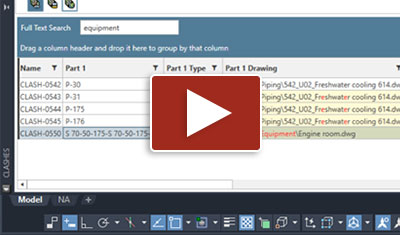 Clashes are a constant consideration across projects. Missing a deadline because of a late clash detection is unacceptable for any shipbuilder. Identifying and resolving clashes earlier minimizes risk while saving time and effort. For ShipConstructor 2020 R2, we've significantly improved the way Clash Management can help you accomplish that.
Global Clash Check now supports the same part types as Local Clash Check (except for AutoCAD solids):
Structure
Pipe
HVAC
Equipment
Standard Assembly
Penetration
Plus, space Allocations are now supported in local and global clash checking and clashes can be deleted across units or even across the entire project using the Clash Manager. When combined with a new EnterprisePlatform Operation, global clash check can be run on arbitrary selections of drawings.
More Ways to Review and Assess Projects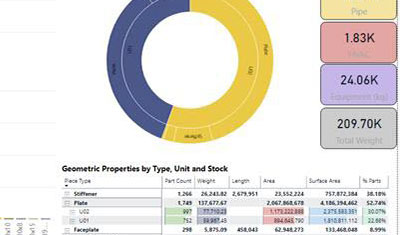 Project Insights is a powerful way to achieve an understanding of the status of a project. With so much ShipConstructor information available, we have worked to make it easier for managers to quickly review and assess project work, progress, and trends.
With ShipConstructor 2020 R2, the Project Insights report template has been expanded to include the following part data related pages:
Weight – Displays a breakdown of part weight across modules and units, by part type and stock.
System Parts – Displays a part count, length and weight, as well as a count of spooled parts and the number of spools, by system, units and part type.
Spec-System-Branch – Displays part statistics (count, length, weight, percent spooled) according to the Spec, System and Branch hierarchy. Includes a dynamic list of parts depending on the selected spec, system or branch.
Parts Nested – Displays the nesting status of structural parts by unit, part type and stock
Assembly Parts – Displays part count, weight, length and CG, as well as a dynamic list of individual parts depending on the selected assembly. Includes support for secondary product hierarchies.
All that information can now be retrieved and visualized across the entire project, from primary as well as secondary product hierarchies.
ShipExplorer Launcher Improvements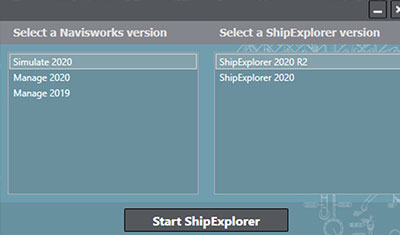 Modern shipbuilding projects can consist of many hundreds of thousands of parts. Being able to quickly view what has changed in a project is a crucial part of taking back control over the scale of shipbuilding. We introduced ShipExplorer to make it easy to see those changes quickly, and now we've made it even easier to launch.
With the new ShipExplorer launcher, you can now launch different versions of ShipExplorer side by side using Navisworks Simulate/Manage 2018 or newer. The ShipExplorer Launcher is installed as a part of the ShipExplorer installation.
Find More Information
To get more details on this release and see a breakdown of the specific features we've added, or to download the update, visit our Release Information page.