The projects your organization takes on consistently grow in complexity, and more visibility into those projects is always a good thing. But without the flexibility to work with those projects in the way that works best for your teams, it can feel like you're losing control. To help make you confident that you have the control you need over your projects, with SSI 2021 R2, we've focused on making wishlist items a reality. We've added the ability to lock drawings from within ShipConstructor, made working with pipe systems clearer, made getting support even more painless, and much more.
---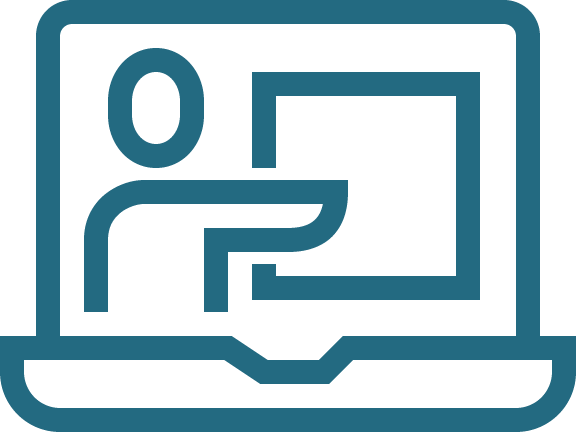 Watch the Webinar
Join the SSI team on Nov 19th at 8 am PST for a webinar first look at all the improvements now available with the release of SSI 2021 R2.
Register Now
---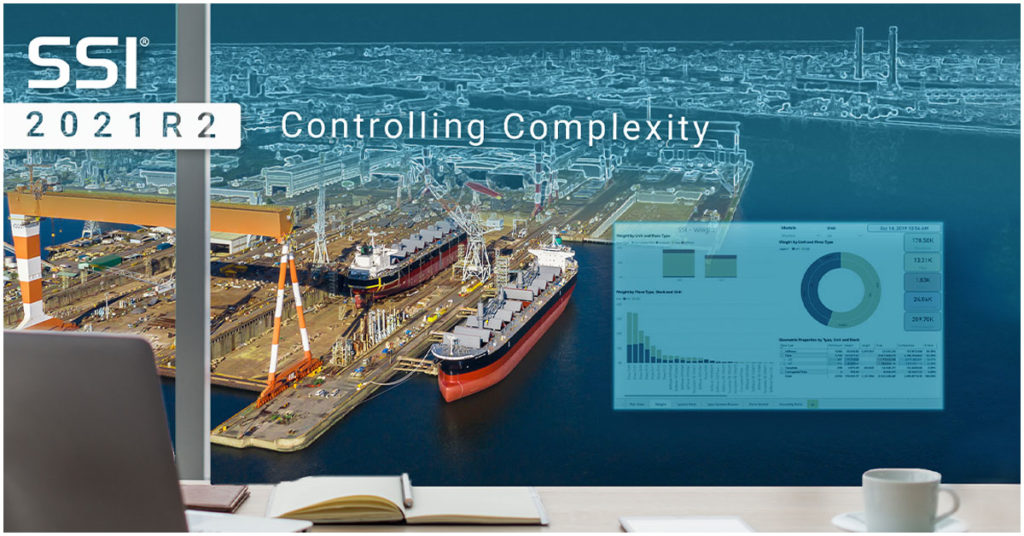 With change management and security top of mind at many shipyards, it's no surprise that one of the items most voted on in the Nexus Wishlist has been for more capability around revision management. With the new Lock Manager in SSI 2021 R2, we've introduced administrator-level control of model and production drawings. For your teams, that means less uncertainty and more control over your project.
The scale of modern projects is instantly visible when looking at piping systems. Making sense of each individual system and branch or where pipes are routed can be a constant challenge. To help your teams identify, from just a glance, the area they are working on, we've introduced color-coded layer options to MarineDrafting. The layer properties are borrowed directly from the Pipe System Manager, giving you one central location to make changes.
No matter how complex the project, disruptions must be kept to a minimum. We're proud of our Client Success team's ability to quickly resolve technical issues when they arise, but there is always room to make the process easier for our clients. The new SSI Desktop App is a standalone utility to do just that. By creating one central place to manage support requests, automatically include technical information, and access SSI resources, we've worked to get your teams back up and running faster than ever.
These three improvements are all live as of SSI 2021 R2's release. Alongside them, as always, we've included other features that make it easy for your organization to take control over complexity, work with projects your way, and focus on shipbuilding. A detailed list of the top changes is below, and to get a more in-depth look, make sure to join our development team at the release webinar on Nov 19th at 8 am PST.
---
Detailed Enhancements
Note: Every enhancement in this release was inspired by a user-driven request from the Nexus Wishlist.
Lock Drawings From Within ShipConstructor
Lock your model and production drawings within the ShipConstructor environment. For change management, conveniently grant access to groups to make necessary changes and then remove their access.
Locked drawings are locked at the database level, which is much more powerful than merely locking the files. The drawings cannot be modified when locked, including by outside processes or commands such as SCTRANSFER, SCREPLICATE, WorkShare, and more.
Generate Layers for Pipe Systems in MarineDrafting
ShipConstructor now allows you to create pipe system layers in MarineDrafting.
To create the pipe system layers, enter the keyword <SYSTEM> in the Pipe Layer name field within the MarineDrafting view generation setting.
When you update the view, MarineDrafting will create the layers for your pipe systems, and the naming of the layers will follow the same naming convention the user has defined in the layer name field.
The Pipe system layer will use the same color from your ShipConstructor Pipe System Manager for you to quickly identify the pipes and the associated pipe systems. This feature supports not only pipe systems but also pipe branches. Use the keyword <BRANCH> in the Pipe Layer name field within the MarineDrafting view generation setting window, and it will create the layers for the pipe branches in your MD drawing.
SSI Desktop App
The SSI Desktop application is a standalone tool that allows an end-user, engineering team manager, or system administrator to quickly:
Scan and understand what SSI products and versions are installed on a workstation.
Incorporate this information to create and submit an SSI Support Request.
Access existing support requests and SSI resources.
Why use the SSI Desktop App?
End users do not need access to SSI Support online to get the support request process started. End users can create support requests and direct them to their managers with all the necessary information already filled in. Support Requests are then made and submitted much faster. Technical investigations begin sooner, leading to resolutions provided in a more timely manner.
How to get the SSI Desktop App?
The SSI Desktop App can be downloaded from Nexus Downloads, under the Utility Downloads section, as a zip archive. The application is a single executable file. Once extracted from the archive, it can be placed anywhere on your workstation. No additional installation steps are required.
What does the future hold?
The SSI team plans to make the SSI Desktop App a major hub for navigating the vast world of SSI products. In the next releases, we are considering several additional capabilities, so feel free to discuss on SSI Nexus what you would like to see.
Project Item List
The Project Item List, which is replacing the Project Equipment List, has been rebuilt from the ground up with new features, faster performance, and better usability.
Expanded Part Type Support
The Project Item List now supports the association of pipe stock in the PIL for planning purposes. This is currently limited to the Project Item List, with part insertion into the drawing coming soon.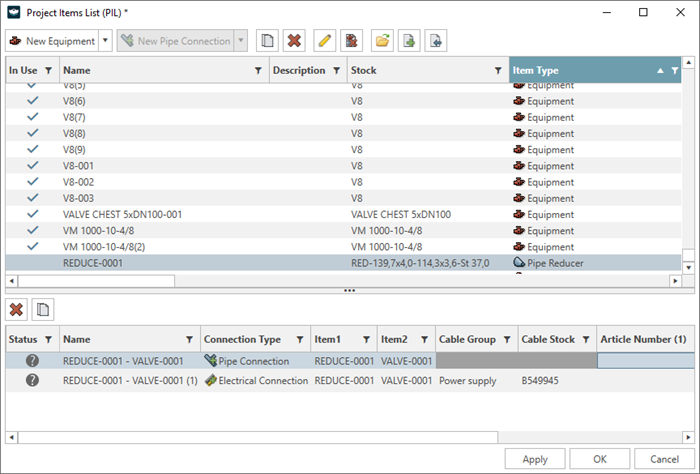 Ability to plan pipe connections
You may now plan pipe connections between assets for both equipment stock as well as pipe stock.
TSV template generation & data import
Quickly generate a TSV template of your Project Item List environment. Ability to import new data from the TSV file to populate the Project Item List.
Improved UI and Performance
Introduced new layout to allow for better visibility of parts and connections and vastly improved loading performance for large projects.
Change Valve Handle Rotation Angles
A new property, Modify Handle Rotation on Part, has been added to valve stocks. When this is checked or set to yes, the part property Handle Rotation can be edited on individual parts.
On upgrade to this version, all existing valve stocks will have handle rotation disabled, so they will behave as before.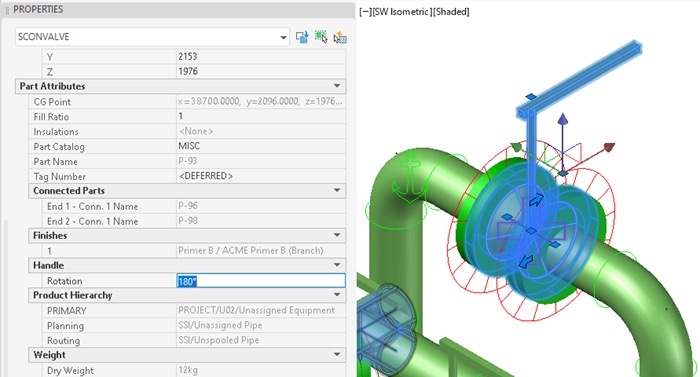 User Permissions for OTF HVAC
Two new modeling permissions have been added for OTF HVAC:
OTF Create permission
Gives users the ability to create OTF HVAC parts.
OTF Edit permission
Allows users to edit existing HVAC parts, but users cannot create new OTF parts either directly by modeling new parts or indirectly by operations such as copy or copy/clip.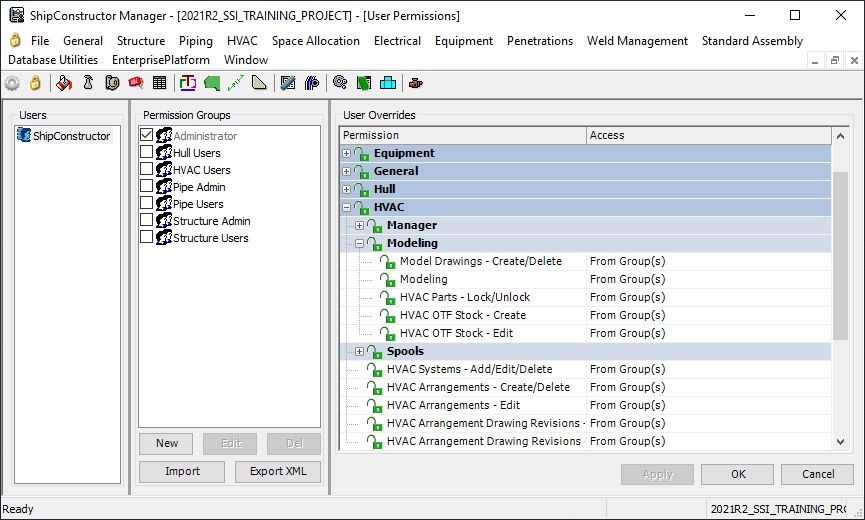 Include Electrical Cable Supports in WorkShare Transfer
Transfer your electrical cable supports to another hull by including the supports with a selection of source space allocations.
Since cable supports can only exist with corresponding space allocations, including them as a transfer option (similar to spools for pipe parts) makes sense. The PIN status due to cable support is automatically transferred to your other hull as well.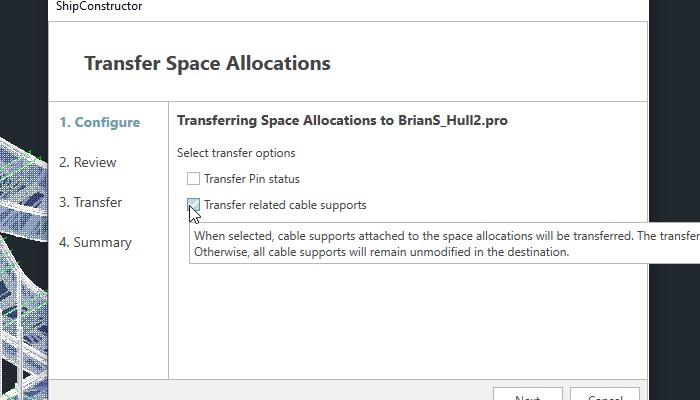 Space allocation and cable supports are fully synchronizable between your projects – meaning if they already exist in the destination hull, they can be updated via WorkShare Transfer when there are source project changes.
---
Learn More
Register for the webinar and watch it live to see these new features and improvements in action. There's no better way to experience what's new for this release.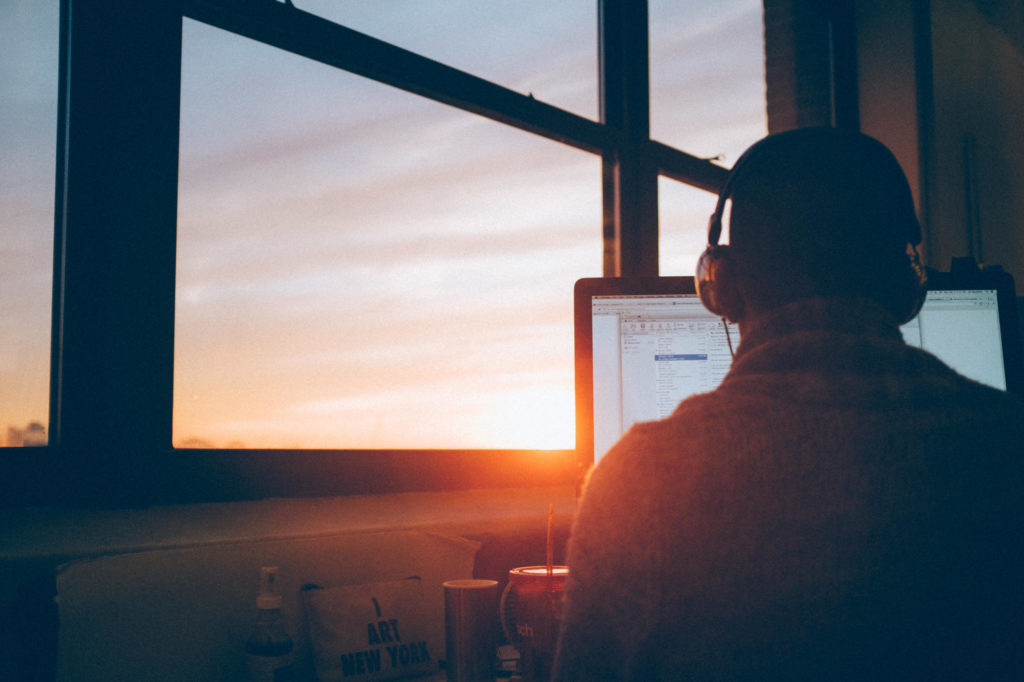 This webinar takes place: 11/19/2020 8:00 am PT.
Register Here
---
System Requirements
Supported Client Operating Systems
Windows 10 (64-bit)
Supported Server Operating Systems
Windows Server 2019, 2016, 2012, and 2012 R2
.Net Framework
.NET Framework 4.7 (installed automatically)
SQL Servers
MS SQL Server 2019, 2017, 2016. SQL Server 2017 Express is included with the installer. Note: Express editions are suitable for projects with 5 or fewer users only.
Supported AutoCAD Platforms
2021, 2020, and 2019:
AutoCAD, AutoCAD Mechanical,
AutoCAD Plant3D (for ShipConstructor P&ID Design Validation functionality of Pipe)
Supported Navisworks Versions
2021, 2020, and 2019:
Navisworks Simulate, Navisworks Manage
Side-by-side Installation Compatibility
ShipConstructor 2021 can be installed side-by-side with any previous major ShipConstructor version; each installed version of ShipConstructor requires its own dedicated instance of AutoCAD.
---
SSI Installation Guide
Access the latest ShipConstructor manual on SSI Nexus for detailed installation instructions and system requirements for this release.
Download Information
To download this release, visit the downloads section of SSI Nexus. There, you can get access to all the latest SSI releases.
Purchasing Information
For information on this release, to purchase the software, or to renew your Subscription contact an SSI Representative.