Information at the Fingertips
A shipyard is a complex ecosystem that runs many interrelated processes and workflows. That includes multi-discipline engineering, production planning, and ship construction. It also leads to a vast amount of information to communicate and process.
Interpreting data using existing solutions makes it easy to get started and helps incrementally improve the efficiency of your processes – encouraging further progress and easier adoption of improvements.
Measure to Innovate
As a design engineer and a CAD manager, I mainly experienced tracking hours and allocating the designer costs to a specific project. However, there is a lot more to that, especially when design and engineering teams want to understand the cause of why certain activities drive the cost and schedule.
For instance, I once worked on a piping drawing creating a 13-sheet assembly drawing in A1 format. That drawing typically took approximately 40 hours. I also saw that the information on the drawing was quite repetitive on many of the drawing sheets.
I then could quickly evaluate that there was an alternative way to provide the same level of information on five sheets produced in two days. That is an impressive efficiency increase of 250% if maintaining the same detail level and output quality as the original 13-sheet drawing, created in less time.
Track Purposefully
Design and engineering do not need to introduce novel solutions to see the digital value in the shipyard. But tracking and measuring data needs to be done purposefully. One of the challenges I also saw as a designer when tracking key metrics is that sometimes it felt like an unnecessary waste of time. Understanding the reason tracking is done, and its impact helps team members understand where improvements can be made without complicating an already complex engineering process.
Below are a few examples identifying critical metrics and the impact of specific processes in a project. What would you add to this list?
PROCESS
DESCRIPTION
IMPACT
Estimating hours
Understand how long modeling and producing Manufacturing Information (MI) takes.
E.g., Parts per hour, hours per deliverable type.
A better, more accurate project estimation in the initial phase of planning.
Identifying areas for improvement
Estimate the time range for a process to get completed. Measure actual time spent on an engineering cycle.
It helps identify bottlenecks and implement corrective action.
Measuring Rework
Track the hours taken to make drawings changes following the baseline documentation release.
That would lead to developing strategies to minimize rework.
Improvements in quality of deliverables.
Measuring Change
Measure time spent on change execution, how many parts/assemblies are affected, what domino impacts are made, etc.
Reduce delay and disruption when change takes too long to implement.
Identifying Training Requirements
Measure the time designers take to complete tasks to identify areas where training is required.
Increase team competence.
Measuring the impacts following an internal review
Identifying areas where deliverables are not satisfying the stakeholder requirements.
E.g., Production drawings lack the information required, and BOM lacks the required attributes.
Improve the quality of deliverables and ensure production has the information they need to do the job correctly the first time attempted.
Identifying relevant key metrics
Review to Improve
Another approach to improve team efficiency is conducting monthly project meetings to review data that is being measured. Designers, technical leads, and project managers assess if they have achieved monthly goals. And if not, what actions they shall take in the coming month to improve. That also helps highlight the team's wins and accomplishments when things are going to plan.
That is a more loose approach and does not require tedious hour tracking and timesheets. But it also can be supported by more specific data tracked if needed.
Leverage a Parametric Product Model
Often, the 3D CAD or PLM tool of choice can provide a few reports to understand the design progress, or designers can extract the data to create customized reports like weight reports or MTO lists.
As ship projects are weight-sensitive, regularly pulling weight data from the product model and analyzing trends helps identify weight issues that can be corrected before critical trials.
In the example below, the designer or project manager can quickly assess the project progress based on information on locked (released) drawings. If it does not match planned progress, it is time to drill down and investigate what is causing delays and how to improve them.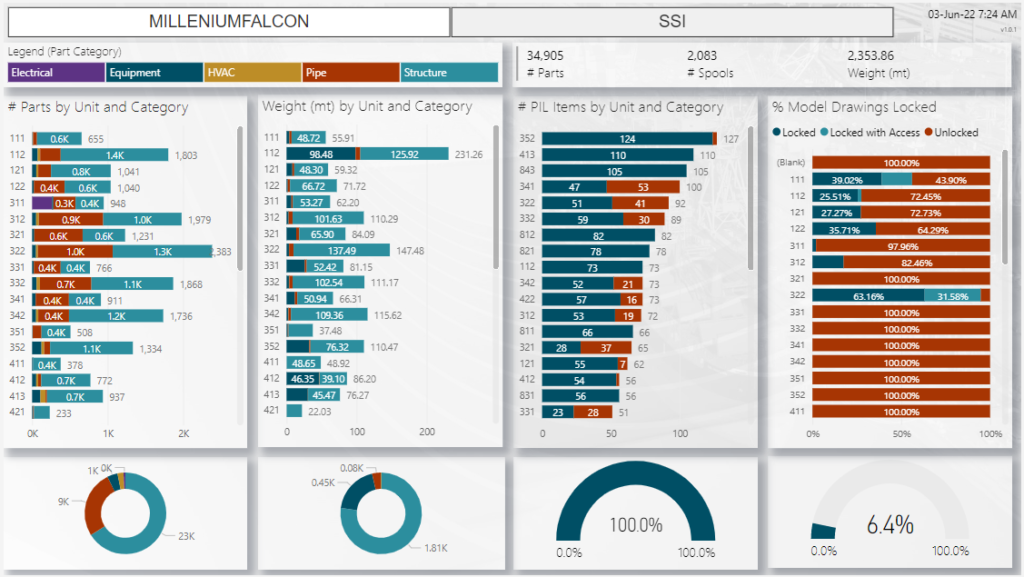 Create a Reliable System
Once the engineering department has created a reliable system that gives a holistic view of significant metrics, it can be easy to know where to start adjusting and improving efficiency, potentially affecting the entire shipyard.
Measuring project activities helps break information siloes and communicate between departments and functions more efficiently.
Key metrics can be used to communicate at all levels of the business, internally and externally, to the customer.
Key metrics must be simple and relevant to the shipyard's processes. Over-tracking non-critical metrics would only burden and frustrate engineers who work in complex environments.
Conducting regular reviews of measured activities helps to course-correct quickly and more proactively. The team members must be all on the same page in this regard.