A couple of weeks ago Nick Danese and myself ran a focus group at PI Marine EU. I really wanted to get a better sense of the reality of how organizations are doing on the journey to "digital transformation." Most articles we read and presentations we see usually focus on the good and in most cases embellish on the truth to make it look much more impressive. This leaves many thinking that others have it all figured out, causing them to make rushed, uninformed decisions to do something to move their digital transformation ahead because they are "so far behind everyone else." I think it is important for us to know the possibilities and have a BHAG vision, but we also need to have a good idea of what the industry is really doing.

Digital Shipbuilding
Get a first-hand experience of what the design, build, and maintenance phases are like in an increasingly digital shipyard.
Experience now
The idea of the focus group was to have an open conversation where we can share some of the experiences in our journey. Afterwards, we will all be more armed with information that can help our digital transformation journey's – or at least that's the goal. As the saying goes,
The rising tide lifts all boats
The description of the focus group was:
Speak to any shipbuilding executive and they will tell you the biggest impact on the future of their business is technology. Implementing new technologies is often called a Digital Transformation, but what does that really involve, and how will it impact the business of shipbuilding? Is shipbuilding even ready for such a shift?
This focus group is the first step towards understanding how we can move beyond theory and instead start taking incremental and concrete steps towards starting our transformations, determining what is slowing us down, and experiencing what a successful transformation looks like.
I conducted this focus group by asking 3 simple questions:
What are your goals or biggest benefits you see in the next 1-2 years with your digital transformation?
What are the obstacles you are facing today with your digital transformation?
What strategies or processes have worked in your journey to achieve your digital transformation?
The participants then had 8 min to write their ideas on post-it notes and put them up on the wall. After which I grouped similar comments into themes for each question and we had a quick but valuable conversation on only the top themes.
Q1. What are your goals or biggest benefits you see in the next 1-2 years with your digital transformation?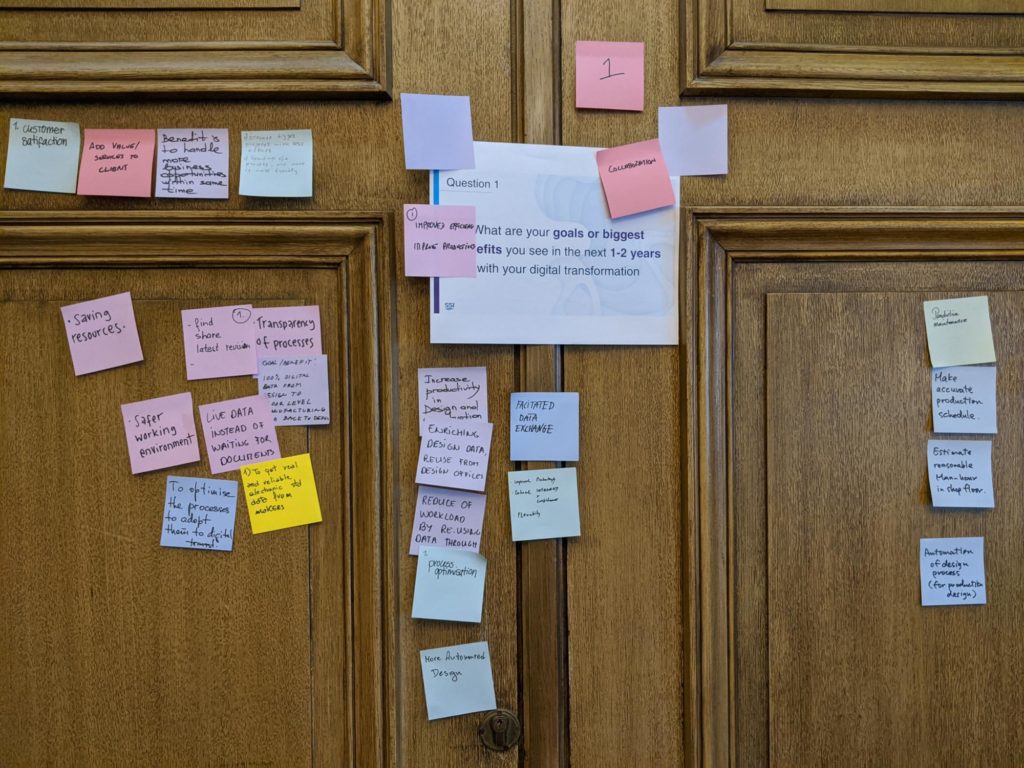 For this question, I specifically chose 1-2 years as I did want us to stay more in the now than too much into the future.
There were several themes that really came out. One that we had some discussion around was the change in business value that we deliver to our customers. There was a participant who mentioned that their shipyard, which was mostly focused on shipbuilding, is now adding additional value by providing post-delivery services. There was also another participant that works at a company focusing on fleet sustainment and mentioned they are getting into shipbuilding. This scenario of having two industries growing into each other's territory reminds me of telecom and cable companies over a decade ago. Before, each was only focused on either providing telephone services or cable services; now both are providing similar services and are direct competitors in most.
The other theme was about data and information. The benefit of having information flow through our company seamlessly seems to be what many are looking to achieve in the next 1-2 years. The ability to have transparency over all current activities, not having to spend 40% of our time searching for information in documents, near real-time communication with only the right stakeholders, having the right version and the ability to find previous version, etc. We definitely have moved from a time of focusing on how we are going to create data to a time of focusing on how to manage data. There is not one single digital transformation that does not require data and therefore it was almost a given that it made it into our discussion.
We definitely have moved from a time of focusing on how we are going to create data to a time of focusing how to manage data.

Denis Morais
Q2. What are the obstacles you are facing today with your digital transformation?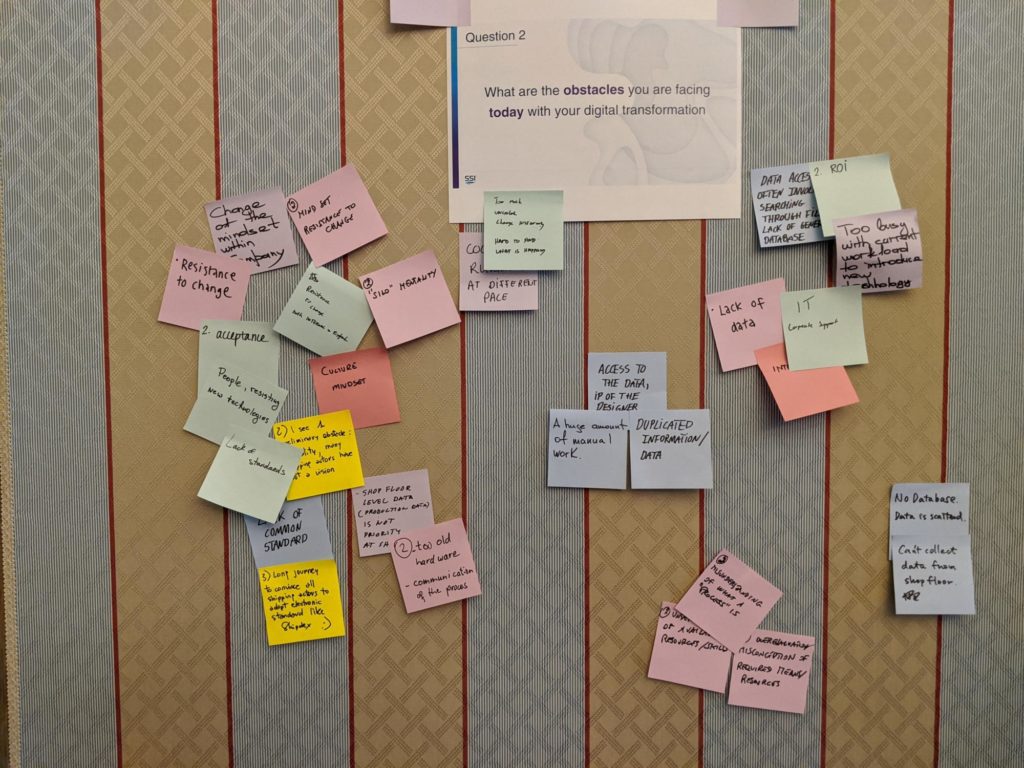 This question is always my favorite as it gives us the opportunity to solve some tough problems, learn from our previous failures as well as helps sets our priorities.
I was very pleased to see a huge number of post-it notes related to Culture and Mindset. I have blogged about culture and mindset often as I do think it is one of the biggest challenges that we need to solve in our industry. It is foundational to almost everything else we want to achieve. The culture obstacle seems to be in every part of our industry, in every size of company, in leadership positions, in non-leadership positions, across every discipline…pretty much everywhere except for the people in the focus group. 🙂
The role of IT in the organization was also discussed as an obstacle. Traditionally, IT held the keys to do anything related to software and hardware within the organization. This has caused some rifts between IT and almost every other department as it is very difficult for the business to continue their digital transformation journey without IT's involvement. However, the good news is that some organizations are aware of the vital importance of IT in the organization. Having completely integrated them into the business and no longer considering IT as just a cost center. I discussed more about this in my blog post Evolution of IT's Role.
Another interesting topic discussed was the difficulty of explaining the ROI of a digital transformation to the executive leadership team. There was the idea that the current ROI calculation is more aligned for making your current business more efficient; however, for many digital transformation initiatives it does not really work very well. Many digital transformations will improve some of the activities that you do today (which are in the ROI calculation), but also reduce some harder to quantify non-value add activities. An example of those would be making fewer mistakes in design and requiring less ad-hoc and ninja (silent) changes on the production floor as a result. Those changes are non-communicated or recorded but do affect the amount of time and $ spent on that manufacturing item.
Q3. What strategies or processes have worked in your journey to achieve your digital transformation?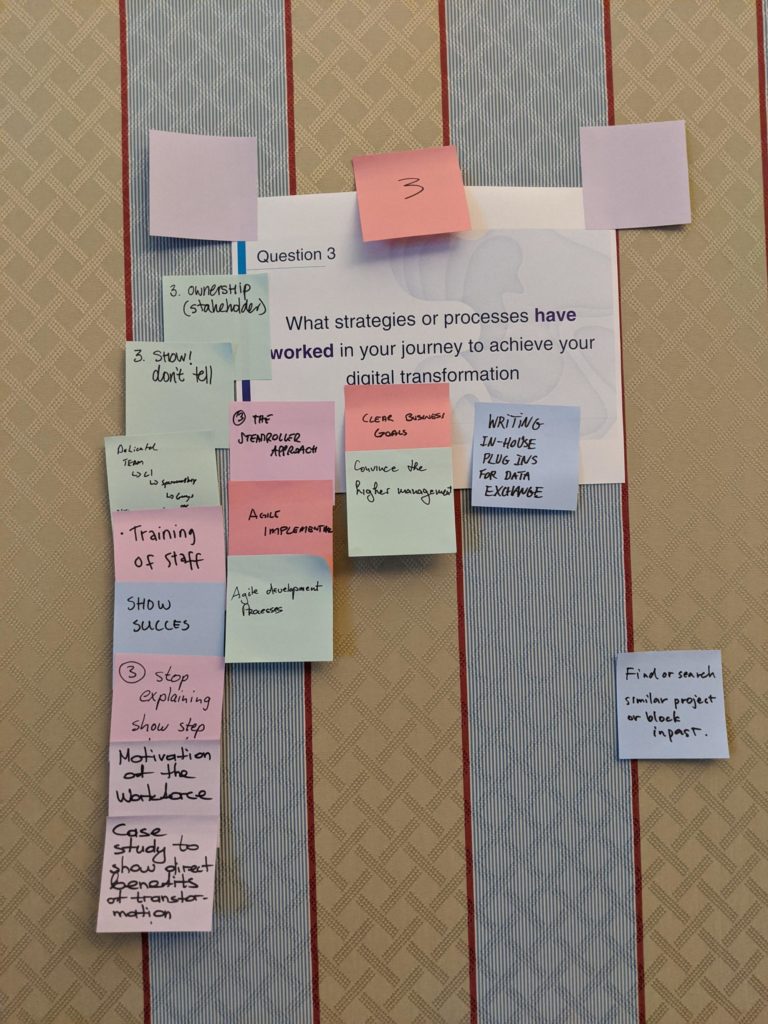 I wanted to also get a sense of what is working so that we would be able to leverage and possibly repeat the essence of the strategy in other activities.
There was a loud and clear theme of "Show, do not Tell." There were several examples shared where the ability to move forward was directly related to the fact that they were able to show something to the decision makers. This was not a "presentation," but something tangible that can be used in production. This also aligns with the agile implementation strategy, where focusing on a small but valuable activity can get results quickly and result in more buy-in and excitement throughout the organization. This is also another topic I am very passionate about and have blogged about it several times.
Another strategy that has worked was to find an end user who will champion the tool/process/software/technology/etc. that you are driving. Doing so results in:
Good input from the person that is actually going to have to use the innovation.
Further adoption because it will not feel forced on them by someone that does not know what they do.
There was also mention that having a CEO or someone "high" in the organization to set some lofty goals – such as reducing design time by 50% – forces everyone out of the mindset that they can just tweak what they are doing today. Getting a 50% reduction in effort requires a completely different view of how to solve problems and forces everyone to think differently…which is usually a good thing.
Last but not least, the idea of having a digital transformation steering committee that contains progressive leaders from each discipline. I personally have seen this work very well; however, I have also seen this work not so well. It is totally dependent on the leaders in the steering committee. They need to have a good vision of the corporate vision (not just their own), not to have a huge ego, be comfortable making decisions even if they disagree with others on the committee, and to accept and learn from failure and fail effectively. In essence it cannot be a bureaucratic committee where there is meeting after meeting with no decisions and no actions.
Closing Remarks
It is hard these days to get a good sense of where any industry is really at in their digital transformation. Many organizations are on their journey, but has it been a successful journey or a complete failure?
Even though the analysts tell us that over 80% of digital transformations fail, we often hear or read a different message. This makes sense, as mostly only the really successful stories are communicated externally, and in many cases are embellished to make them sound significantly better. This can affect our industry as many are looking at how much further other companies are and making quick, uninformed or not well-thought-out decisions as a result.
Having the focus group at PI Marine 2020 Hamburg really helped myself and others in the room to get a better feel for where the industry is and is going. We did not have time to talk about all the points of interest, but it was clear that there are some strong themes that are common across all facets of our industry.
I find it awesome that the majority of the themes brought up at the focus group are also topics that I am very passionate about and that I do discuss in this blog often.
If you have any thoughts or comments on any of the three questions, I would love to hear them.