I have been attending Autodesk University (AU) in Las Vegas for many years and I always feel rejuvenated after it. This year was no different but it probably made me more excited about what is to come than I have felt in any previous year. There was a lot of technology as usual but this year there seemed to be more tangible examples and the foundation required to build on these disruptive technologies seemed to be mature enough for almost any industry including shipbuilding. Here are some of my key takeaways as I sit here on my 7am flight back home.
---
ADN – (Autodesk Developer Network)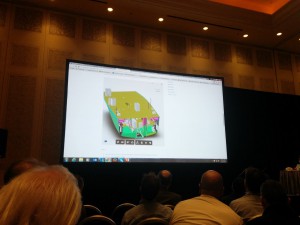 The conference started with ADN DevDays. As one of the biggest (and most important 🙂 ) ADN developer it is important for SSI to participate in this day to see what is coming down the pipe. I have to say that this year I was blown away with the platform Autodesk has created and the work the ADN team has done to build a community. I forget what I can and cannot say publicly so I will not get into the details. All I can say is that it looks like it will be an amazing next few years. I was honored that Jim Quanci (Senior Director, Autodesk Developer Network) showed my blog on the big screen at AU. This is the post he showed.
---
3D Printing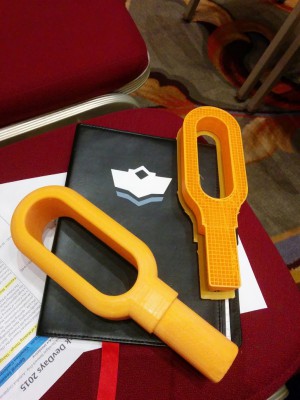 I was hoping (dreaming really) that there was going to be an announcement that there is now a one button click feature that would print a 3D CAD model with no requirement for additional manual processing. Unfortunately, there was no such announcement. There is some great work being done with the Spark platform and the Autodesk team is 100% focused on making 3D printing as easy as printing text on paper. However, it looks like it will be a few years before that happens.
---
Cloud
It is not surprising that Cloud was a theme at Autodesk University yet it was not as much front and center. I think there are many reasons for this but the main reason is because most of us do not need to be convinced that cloud is going to change what/how we do things. We know it will and for the most part has already.
I know the shipbuilding industry mainly thinks that the cloud will never work for our industry because we are special and different. Ironically the same people in shipbuilding who say this are the first people to say that the shipbuilding industry is always lagging behind other industries. Maybe they are related :).
To get back to AU there were a lot of good solutions and material revolving around the cloud. The most interesting presentation was by Richard Noriega – Mechanical Engineer, Vacco Industriesand Martin Gasevski – Autodesk, Inc. The main reason it was interesting is because Vacco is using Autodesk PLM 360 (a cloud based PLM) on projects that require ITAR. They are not storing any drawings or technical packages on Autodesk PLM 360; however, they were doing their change management, NPD, RFQ and integrating into several other systems they use.
It was good to see this hybrid approach on an ITAR project as most people think cloud is all or nothing. I still need to find more information on how they got approval for some data (eg. BOM) to be on the cloud. The key thing to note though is that it is possible.
During this conference I meet with several Autodesk product teams. This year I met with the A360 product team for the very first time. I shared some experiences I have had over the last while. The interesting thing was to hear how the Autodesk 360 products are starting to align to use a similar backbone/foundation. I really do believe that with their current direction we are going to be having some very compelling workflows for those of us who are in the shipbuilding industry.
---
IoT – Internet of Things
IoT definitely had its fair share of the limelight including in the several keynote speeches, innovation forums and many classes.
You often hear IoT used after the product has been created to do pre-emptive, predictive maintenance, provide valuable information on how your product is being used, or improving the user experience with your product. I think all of those are awesome but a different benefit of IoT which I do not hear too much about is how IoT can be used during manufacturing/construction.
There a few reasons why IoT is being used for manufacturing/construction. First of all, the cost of IoT sensors continues to be shrinking which allows them to be considered to be disposable. Secondly, IoT requires no battery. Yes, no battery; the sensors get power from heat differences and motion. Finally, the sensors are getting so small (miniaturization) that construction companies are even inserting IoT devices while pouring concrete. This will allow them to monitor how fast the concrete is drying as well as to determine the strength of the concrete. I thought this was really cool.
And I was even more impressed by how using IoT at the construction and manufacturing stage offers some significant opportunities. Just imagine if for a few cents per part we could monitor and track all parts during the manufacturing of a ship. With the millions of parts we have in a ship, the cost of a few cents adds up. However, having the visibility of your parts while being manufactured can provide so much insight which will allow you to optimize facilities, identify errors early, communicate information back to enterprise systems, and reclaim some space you have at the shipyard where you store things in the, "I do not know where this part goes" bin. All these characteristics of IoT are going to change how we manufacture ships and the software we need to leverage this opportunity.
Unfortunately, I did end up missing some IoT presentations which I wanted to go to. The one from my colleague David Truyens, TDDatech seemed very interesting IM9698 – How to Design, Simulate, and Manufacture a Self-Balancing Robot
(Speaking of robots, the best example of using robots was definitely at the Autodesk University exhibit hall where you could get a robot to create you a drink.)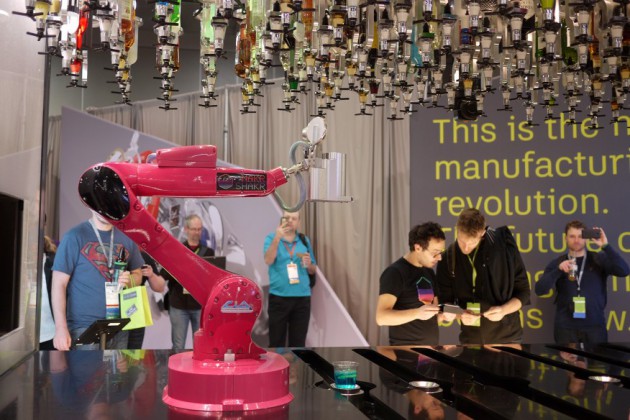 ---
Augmented Reality
I really wanted to see the Microsoft HoloLens with Fusion 360 but the showing was full. This takes visualization/augmented reality and collaboration to a whole different level. I have only seen videos of HoloLen and really want to see how immersive the experience will be.
Another technology I came across which was really cool was from Google called Project Tango. I was totally amazed that I had no idea of its existence until AU and then was blown away about the technology and its real world application. The idea of Project Tango is that it uses a tablet-like device (with additional built-in sensors) to detect the world around you in 3D. It then lets you use that information to either create an augmented reality such as inserting a 3D object into the scene or you can save the scanned data to an obj file to be used by other applications and workflows. It did remind me a little bit of what dotProduct has; however, Project Tango is more of a platform than a final product solution.
---
Generative Design
Another emerging trend discussed was Generative Design which is a design method where the output is generated by a set of rules or an Algorithm. This has been talked about for a while and was a key topic in Jeff Kowalski Autodesk's CTO keynote. I find Generative Design to be very interesting and very difficult to get my head around how you define the constraints. I know it sounds easy because we define constraint all the time in our projects. The thing is, the constraints in generative design are different and require a new way of thinking and defining constraints.
A real world example of generative design could be in Airbus's planes in the New Year. This "bionic partition" was generated using generative design and 3D printing. I was able to see this up close and personal and I have to say I am still baffled that this design is orders of magnitude better than what any human could design. It is estimated this will save Airbus 465, 000 metric tons of CO2 every year. That calculates to about the same emissions as 96,000 passenger cars or a Suexmax tanker running for 1 hr :).
An interesting point Jeff mentioned is to also use the real world to provide information into this generative model as input. This will allow it to then continue to optimize the design on its input. An example of this was Project Primordial which designed a car chassis. They drove a human designed "car" around a track monitoring as much data as possible. They then defined some constraints and input all the data collected during the test run into Dreamcatcher (Autodesk's generative design software). The result is a generative designed car chassis which looks different from our current standards but is supposedly superior in all areas where it needs to be (strength, weight, agility, etc.).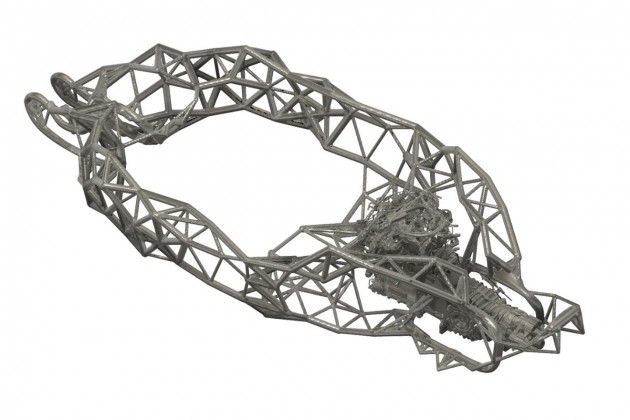 ---
Closing Remarks
Autodesk University is always a great event. The best part for me is to learn and experience all the great technology out there as well as to network with so many different people with unique perspectives.
In this post I did talk about many technologies which may not seem related; however, the reason why technology seems to be moving so fast is that all these new advancements in one technology are slingshotting other technologies. Long gone are the days when we only needed to understand and follow one technology.