The concept of Product-as-a-service is predicted to be one of the major transformational shifts for all manufacturing industries. Product-as-a-service requires manufacturing organizations to get away from just selling products but instead sell the value of the product or the service the products provide. This will require some significant changes in many organizations to be able to adapt to the changing landscape.
Shipbuilding has traditionally been slow to adopt any new technology and business transformation and to be honest I think supporting product-as-a-service will be no different. There are challenges relating to customization and globalization of today's fleet that will need be overcome. However, it is still an area where we need to keep an open mind and see how we can embrace it.
---
Definition
Here is what we are talking about. The research firm IDC Manufacturing Insights defines product-as-a-service as the transformation of service from a standalone function within a manufacturing organization into an integrated product and service offering that delivers value in use. Manufacturers transition from selling physical products to selling the business outcomes the products will deliver.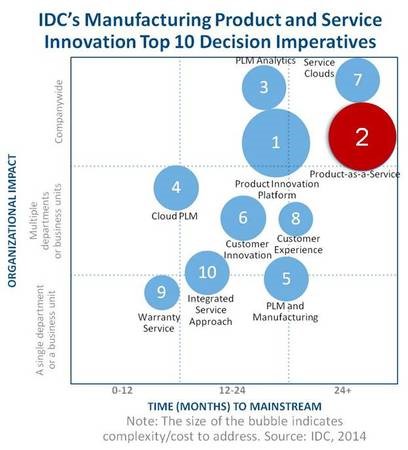 IDC Quote:
By 2018, 40% of Top 100 discrete manufacturers and 20% of Top 100 process manufacturers will provide Product-as-a-Service platforms.
---
Benefits (Brief)
When you look at any business model changes you need to look at the benefit to your company as well as benefit to your clients. There are many benefits to your organization but the most significant will be for you to sell more of your services which are usually at a higher premium. This means your interaction with each client will be longer and potentially more profitable for both you and your client.
The benefit to your client is that they do not need to worry about how they are going to manage their asset (your product). They can simply concentrate on their business and leave managing their asset to you. There is a premium price for this but because your client now has a much lower risk in managing a portion of their non-core business there is a potential for some overall gains. The creator of any product has an advantage over anyone else to maintain and service their product. They have extensive knowledge of product (obviously) and can resolve issues faster than any 3rd party vendor.
---
This is not New in Other Industries
This business model is not new for some manufacturers. For example, I bet the office you are in has as service agreement for the office printer. Very few medium to large organizations own their printer. Instead, they just pay monthly service fees for the service to be able to print. The advantage to this is that your company no longer needs to worry about maintaining or managing the printer because that is offloaded to the company providing the machine.
Another more related example is the services Rolls-Royce offers with their aircraft engines. Their Power-by-the-Hour service package is a plan where maintenance, repair and overhaul services are charged per hour of flight. This means airlines do not need to employee aircraft mechanics, keep them trained, schedule maintenance plans and service schedules. Instead, they can focus on moving people from point A to point B and offering terrible food (:)).
---
Shipbuilding
Consider how this trend could be applied to shipping and shipbuilding. You could have:
One business that provides the ship and the services around maintaining the product. Instead of just selling a ship and then having the owner/operator having to manage regular maintenance and component failures, the seller would take on all activities related to the product to ensure the service it provides is uninterrupted.
Another business that focuses just on shipping. This is what I believe most shipping companies really want to focus on though some of them have even gone so far as to get into the shipbuilding business themselves in order to have a reliable and cost-effective supply and service of vessels. But if the product-as-a-service concept actually gets adopted in our industry, these shipping companies may sell off their shipyards and purchase a service agreements with a company providing all the services that they require. This will allow the spin-off company to provide similar services to other companies and will allow the shipping company to simply focus on shipping.
Even though I may have made the above sound easy, it really is not. The reason is because of the diversity of the types of ships and their functions. In shipbuilding we do not have the luxury of having many ships that are similar like we have in other industries. Each ship was designed for a particular function and is optimized for that function. We cannot replace one ship with another one to maintain the service agreement. Another challenge is the globalization of our fleet. To maintain a ship you will need to be able to offer services across the global to reduce the travel time. There are some companies today in our industry that offer product-as-a-service that invest a lot in having shipyards spread out all over the world.
These challenges do complicate the product-as-a-service model when compared to other industries such as aerospace. However, there are several different types of product-as-a-service systems emerging.
---
Types of Product Service Systems
The types of product service systems include:
Pay per service unit The customer pays each time they use the service. The provider is responsible for all lifecycle costs so is incentivized to design a product which is optimized for usage, maintenance, reuse of parts or product, remanufacture and recycling. An example is office printers where the number of pages printed are charged, with the paper, ink and servicing included in the contract price, whilst the manufacturer provides a working machine and the consumables to go with it.
Product renting or sharing The customer pays to access the product for a certain period and other customers sequentially use the product. Typical examples are for car and excavating equipment rental. The product is provided, controlled and maintained by the provider.
Product Lease Ownership is still retained by the provider, but the customer has continuous access to the product. The provider typically controls, maintains and collects the product at the end of the leasing agreement. Examples are found with car, laptop and machinery leasing.
Product pooling This is when the product is simultaneously used by many customers. A typical example is car-pooling where multiple people use the product at the same time.
(Tukker, 2004)
---
Closing Remarks
There is no doubt that the product-as-a-service will become more common in the world of manufacturing in the next 3 years. It will change business models and eliminate some organizations who do not change.
I do believe that we will see more product-as-a-service in our industry but I doubt that it will be the same or use to the same level as in many other industries.
There are several reasons for this such as the fact that a ship cannot be switched out for any other ship while servicing, globalization of the fleet and the different facility constraints that a specific ship will require (size of dock, aluminum/steel, material ordering, etc.)
However, there are already some companies practicing product-as-a-service in our industry. With the many different types of product services available we will see more companies offering more services with their products. What new business models will emerge will be interesting to see.
What are your thoughts?