A common question I get is, "What is the best way to identify who changed a particular part/assembly/drawing/etc.?" This question is related to my previous blog posts about PLM Looking at Investing in PLM? and Shipbuilding PLM: It is Different! They ask this because it is a requirement of managing user changes on an ECR/ECN/ECO. The answer that most ShipConstructor veterans would give to that question is to use the Revision Manager. That method would work; however, there is a new and arguably a much better way to track what a user has done within ShipConstructor.
---
Overview of ShipConstructor Revisions

Every action which causes a change to your 3D Product Data model creates a revision in ShipConstructor. The revision contains information such as:
Category (Type of drawing or part or library item)
Date of the change
Object e.g. drawing name)
Reason (Created / Deleted / Modified)
User who made the change
Description of change
The revisions stored in ShipConstructor do not save previous versions of the part geometry or attributes. They simply log the above information similar to a log file. This will allow you to get information on what items were changed, when they were changed and by whom. Revisions allow you to do some very cool things such as to create a visual and interactive model of changes in your project as shown in the post 3D Interactive Visualization of Part Revisions. They also enable you to create some useful reports of how your project is changing as mentioned in the post ShipConstructor Tips & Tricks: Know Thyself
---
ShipConstructor Tasks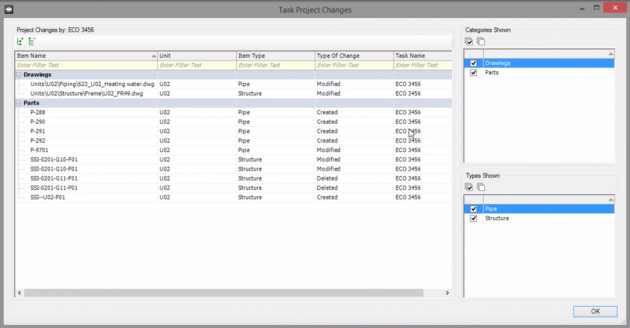 Since ShipConstructor 2014 we have added the capability to better record and visualize what changes have happened in ShipConstructor. This feature is called ShipConstructor Tasks. ShipConstructor Tasks is developed as part of our EnterprisePlatform product since this is a requirement for many enterprise implementations; however, it is currently available to every user who has valid subscription for free.
Under the hood, ShipConstructor Tasks leverage the revision framework but have some additional benefits. A ShipConstructor Task can be thought of as any activity you are tasked to accomplish in ShipConstructor. This could be a change request or even something such as modeling the bilge system.
To use ShipConstructor Tasks, a user first assigns themselves to a current task. After this, the user uses ShipConstructor as normal with no additional overhead or actions. As the user is making changes to ShipConstructor, all changes create a revision (as normal) and are associated to the current task for that specific user.
When anyone wants to see what has been done to the task at any stage (In Progress or Complete) they can open the Task Manager and display the changes. They are simple to identify because in the Task Manager, the changes are consolidated for easy readability. This is much easier than using the Revision Manager.
As mentioned, this feature is part of the Subscription Advantage Pack and will continue to add valuable features incorporated into ShipConstructor.
---
Video
I created a video over a year ago which compares ShipConstructor Revision Manager and ShipConstructor Task Manager.
For those who do not have access to YouTube Click Here