This last year I have been working with several of SSI's clients helping them to implement a PLM tool. As per my recommendation in the blog post Looking at Investing in PLM? I suggest working with an experienced PLM consultant. PLM consultants that I have worked with have a great understanding of the PLM tool and how to align your business goals with the PLM tool selected. However, there is always a learning curve for the PLM consultant to understand the shipbuilding industry. This is where I usually fit into the equation and why clients ask for me to be involved. I am the person who is in the intersection of shipbuilding knowledge, ShipConstructor (CAD/CAM), business goals and PLM feature set. I am definitely not an expert in all these but I would say that I know enough of each aspect to help facilitate communication between each party since in some cases they are at different wavelengths.
How to Stop Worrying About Shipbuilding Change – Webinar
Watch now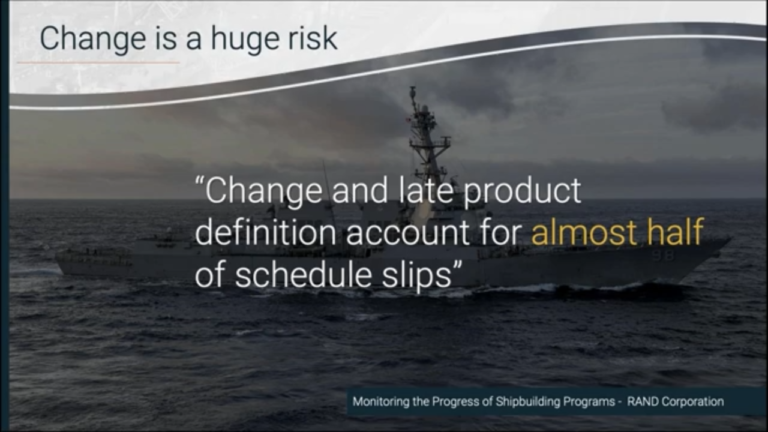 Shipbuilding is unique (but not as much as we think) compared to other industries. One concept which is usually new to PLM consultants is the idea that in the shipbuilding industry we do production engineering and not just engineering. The idea that a shipbuilder can "engineer" a ship but that it cannot be manufactured at any other shipyard is often a shock to these consultants. They are surprised by the fact that an engineered ship is specifically created to be manufactured at a specific shipyard to incorporate its manufacturing constraints and capabilities. This is why we say shipbuilders do production engineering.
Before I talk about the difference between production engineering vs. typical engineering I want to briefly discuss the typical workflow for a ship.
---
Typical (at a very high level) Workflow
After the contract is signed and all initial design is complete, the shipyard starts to build a plan. In this plan they need to develop a manufacturing strategy of breaking the ship into blocks, assemblies, compartments, etc. This breaking of the project is done before the first 3D part is modeled (unless you used 3D in your basic design). There are a lot of factors involved in breaking the project such as size of raw plates available, facility constraints, plate forming techniques, bending capabilities, lifting capacity of cranes, transporters, work centers, storage, scheduling, workforce availability, and the list goes on.
At this stage they also determine the plate raw stock and equipment to be used for the ship and then they place an order for the material. This is because many of these items have long lead times which require placing the order to their suppliers, again before any 3D model is created.
These decisions totally affect the way the ship will be engineered and will be optimized for the yard it will be built at. If the ship was to be built at another yard these decisions would be different and therefore it would change the end result of how the ship will be manufactured and engineered. The easiest example I use is that yards usually want to build the biggest blocks they possibly can but they need to make blocks with weight that does not exceed their crane(s)' operating capacity. Another example is that some yards have the capability to bend plates to create flanges while other do not have this capability requiring them to use another method of strengthening the plate.
Once the plan is roughly laid out the engineers will start detailing the ship with the requirements decided in the previous phase. This will include standards and library items such as stock available, endcuts allowed, corner treatment, equipment, pipe fittings, valves, plate flange standards, bevel standards, penetration standards, etc. This library of catalogs and standards directly affect what items you can use in engineering.
---
Production Engineering in Shipbuilding
In a typical engineering phase, very little thought is usually given to the manufacturability of the item. This is changing in many industries but in shipbuilding, manufacturability has always been part of engineering. Engineers are constrained to use only the standards, catalog and rules pre-setup for the project. This limits the engineers to only design parts which can be manufactured.
This production focus on engineering also drives the way that parts are named and marked on the plate during CNC. Each part will have a name that any person on the production floor would be able to read and then know exactly where on the ship it belongs.
When a part is created in the 3D model the engineers assign the part to an assembly in the production product breakdown structure where the part will be installed. This assembly structure, as mentioned, was defined at the beginning of the project and will continue to get refined by the production planning team to a work center/station level. Additional properties are either inferred or added by the engineer to aid in the routing of the plate on the production floor. A simple example is if the plate requires a flange, the engineer will add an attribute so that it will get routed to the plate bending workstation after CNC. Edge preparation is another manufacturing feature added to the plate during engineering.
The engineering team then generates documentation and even CNC code based on the manufacturing build sequence which will be directly used without manipulation on the waterfront. By using the production project schedule the engineers will only generate the documentation required on the production floor using the Just In Time (JIT) lean principle. Documentation includes drawings used to fabricate, construct and CNC parts/assemblies.
---
Closing Remarks
Implementing PLM in any industry can be challenging and in many cases requires a PLM expert to oversee the implementation. One of the first steps in any PLM tool implementation is to understand how you do business despite the tool that you have selected. This will require your PLM consultant to better understand shipbuilding.
Shipbuilding is a different industry than most other large scale manufacturing industries such as aerospace and automotive. This has caused some PLM experts to fail at implementing a solution in a shipbuilding environment. The fact that shipbuilding does production engineering is only one of the areas which causes implementations to be unique from other integrations. In future posts I will talk about some of the other challenges commonly faced with PLM implementations.