In my previous blog post Why MRO is the Future for (some) Shipbuilders, I discussed the trend of more shipbuilders expanding their new construction business to also include MRO (Maintenance, Repair, Operations) services for the new ships they build. This is a natural extension of their business that both the owner/operator and the shipbuilder can benefit from.
But this only deals with a small portion of the ships that need to be maintained. The majority of ships in service today will be maintained by companies that were not involved in the design, engineering or construction of the ship. Conducting MRO activities on these ships is significantly more challenging as they require different processes, strategies and even tools. Also, with new ships potentially having more useable digital data handed over during delivery of the vessel, it becomes possible to take advantage of new innovations which revolve around the legendary Digital Twin.
There are many additional challenges companies currently in the MRO business face, but I will touch on only three of them:
Current and Future Ships need to be Managed with a Similar Strategy
Getting Control of all the Data
Re-Using/Leveraging Information
The Current State of MRO
For most companies already in the MRO business, the norm is managing a current fleet of disparate ships that can be up to 50 years old. The different types of information that they have on these generations of ships is neither similar, digital or accurate and often doesn't exist at all.
The ships that are managed in the fleet were originally built for different owners, constructed at different shipyards using different shipbuilding best practice strategies, using different standards, registered at different class societies, have been repaired and/or overhauled with no additional documentation, etc.
This is a very hard place to be, but it is the reality for most.
The ships that are being built or overhauled today are providing more digital artifacts that can help future MRO activities. I use digital artifacts a bit lightly as I guess a disconnected PDF is technically a digital artifact :). The data being passed is also not really captured or shared in a manner that you can easily use to get answers to some basic questions.
There are now more serious discussions on how future ships can provide more digital information that will be useable after delivery. We are still in the early days of getting a "Digital Twin" model or even just an accurate "3D As-built" model, but we will continue to see more rich and usable information being transferred on delivery.
Challenge 1: Current and Future Ships need to be Managed with a Similar Strategy
For most companies that are creating something new, it is relatively easy for them to adopt a new strategy, technology or innovation. For companies in the MRO business, this transition to the next big thing is a bit more complicated. It would be nice to say that they are only dealing with new ships that have a digital twin representation, but this is simply not a viable solution.
The main challenge is how are they going to merge two completely different worlds (Digital and Non-Digital). They need to create and lead the industry in a strategy of having more useful information provided from the initial construction. That is the key to improving MRO functions and linking this new digital wave with the analog world the majority of their fleet is in.
Having a business strategy and workflow that is resilient and flexible enough to support these two worlds, without requiring a bi-modal strategy, is not an easy task. They will need to be able to accept and leverage new digital information from future vessels, but at the same time use limited (or non-existent) data for current ships. These MRO organizations will have to look at how they can increase the digital footprint of their legacy ships. Most likely by leveraging new technologies such as laser scanning, multi-CAD environments and an innovation platform that will be able to organize their information through the lifecycle of the ship.
Challenge 2: Getting Control of all the Data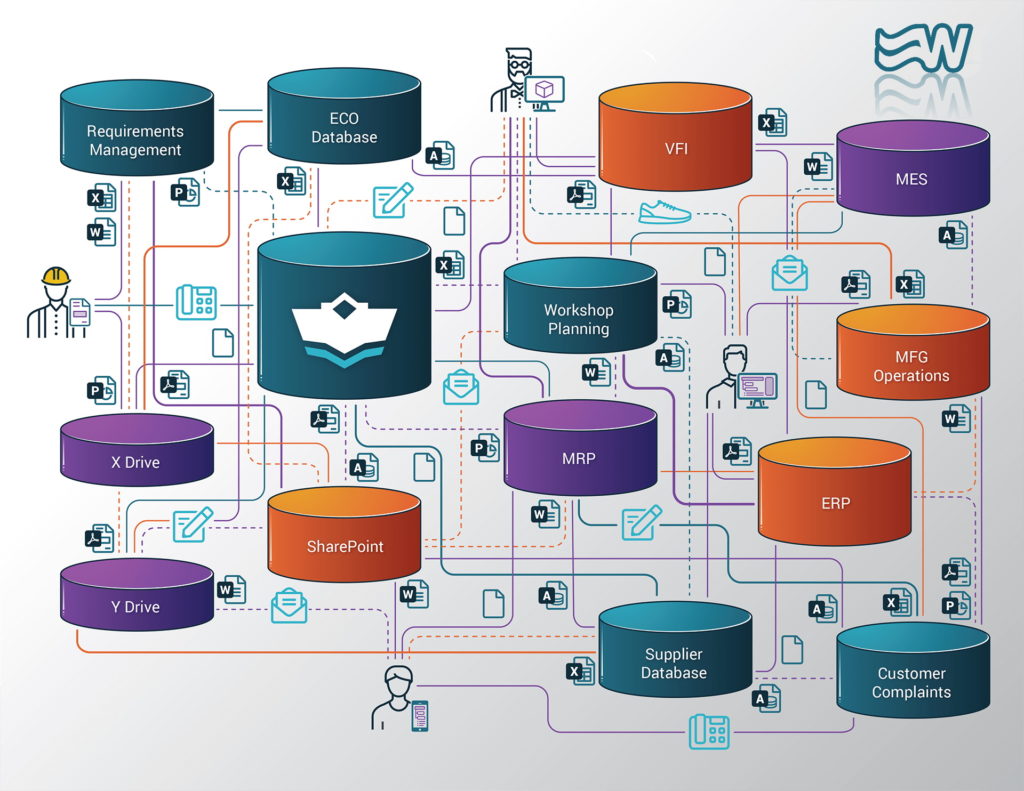 As explained in blog post No Single Digital Twin Platform to Rule Them All , the digital ship is comprised of a lot of information that is generated across many platforms and companies and is authored and stored in unique software vendors' platforms.
Without a good strategy and some resilient and flexible tools, getting control of all this information that is unmanaged and housed across many organizations and platforms is a monumental task.
This is not just a challenge with legacy data but also with the digital data that is created for projects currently being completed. The digital data that is being passed today is not shared in a way that links the information together, significantly reducing its value. For example, the requirements are not linked to any of the design data of the ship, the P&IDs and other functional designs are also not linked to the model, the 3D model representation is not linked to catalog items, and the list goes on. So even though much of the data is being shared, it is not in a form that is useable without significant amounts of manual effort. The result is that the information which would allow an organization to make fast and accurate decisions is simply not being found, reducing the quality of decisions and increasing the time it takes to make them.
It does not stop at information that is delivered with the ship. There are many examples today of MRO companies conducting repairs and even mid-life overhauls with digital tools. However, the newly created digital information (ex. Laser scans) are not being managed after the project is over. We definitely have the ability to have control over any digital asset that is created now, but we are choosing not to.
Challenge 3: Re-Using Information
The last challenge is the ability to re-use information in whatever format is needed. This is related to the previous challenge of getting control of your data and finding, discovering and searching for information and visualizing the 3D data. When you finally need to implement a change, you need to transition from just referencing the information to leveraging or re-using it.
A common example is the use of 3D geometric information. When you have "control over your information," you will be able to interrogate the 3D model and even visualize it in 3D. This is handled by several standards such as JT, 3D PDF, STEP, etc. and is considered common functionality.
However, when you need to make a change to the ship for a repair, you will want to have this 3D information in a form that you can use in your CAD tool as you implement a change. If you have to make a repair to a system, you will want to use all the surrounding items in the neighbouring compartments to aid you in your changes – including conducting a clash/interference check. Having to re-model even a portion of the surrounding items is time consuming and error prone, which is why leveraging/re-using existing information is crucial.
This is a challenge as each of the ships that is being managed is created by different companies using different CAD applications. If during MRO the same tools the ship was designed with were being used, this would not be a challenge, but it is not feasible to be an expert in all CAD environments. If the 3D data is passed through using some sort of standard, then some of the intelligence and richness of the information is lost which is not ideal.
Closing Remarks
There are many shipbuilders that are currently looking at providing some services in the MRO space. These usually revolve around providing services to the ships they build.
The companies currently in the MRO space have a much more complicated environment to deal with. They are managing a fleet of ships of various different types, built for different owners, built at different shipyards, in some cases 50+ years ago, with little to no information about the ship, with inaccurate or out of date information if any does exist, and the list goes on.
However, the companies that support MRO capabilities have an opportunity to improve the quality and services they provide by using available technology to bridge the gap and support both their current older fleet as well as take on newer ships.
Opportunity does not come easy and future companies providing MRO services will need to solve some very difficult challenges:
How to manage their current and future Ships with a similar strategy to avoid a bi-modal approach, but also take advantage of digital innovations.
The need to get control of all the data and the relationships between the data. This can be the data they are given as well as the data they create.
Re-using and leveraging information, not just referencing information that will need to be manually re-entered to be actionable.