The Challenge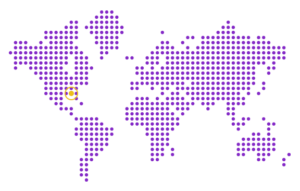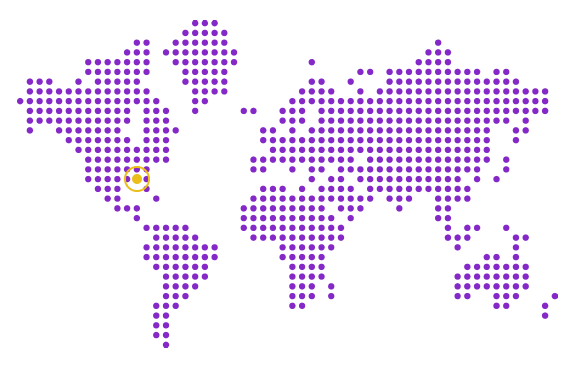 Ingalls Shipbuilding is a major builder of ships for the United States Government. With 11,000 employees and a shipyard encompassing 800 acres, this naval shipyard builds complex ships for the United States Navy.
As the US Government plans to rapidly and significantly increase its fleet, it requires that the cost per ship be massively reduced. To accomplish this, the government has told shipyards like Ingalls that it is moving to fixed price contracts rather than cost-plus. In response, Ingalls Shipyard has been driven to seek major efficiencies in operations.
One key area the organization could see significant cost-savings was in information management. With hundreds of databases, Excel files, and custom scripts that were created by various departments to solve particular problems, it was difficult to ensure that everyone was working from the latest, most up-to-date information. Multiple support staff were needed to manage every copy of information and data source within the organization and there were clear improvements to be made.
Realizing that in order to reduce costs, the company needed to improve how it managed information, Ingalls identified that a Product Lifecycle Management (PLM) program that was tightly integrated with its CAD/CAM program for engineering would be a significant driver of savings.
The complex process that is typical WITHOUT a PLM system: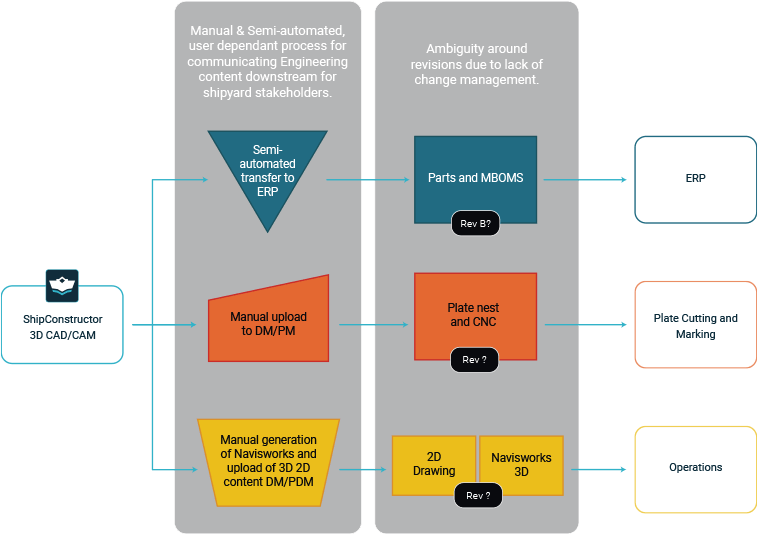 The simpler process provided WITH a PLM system: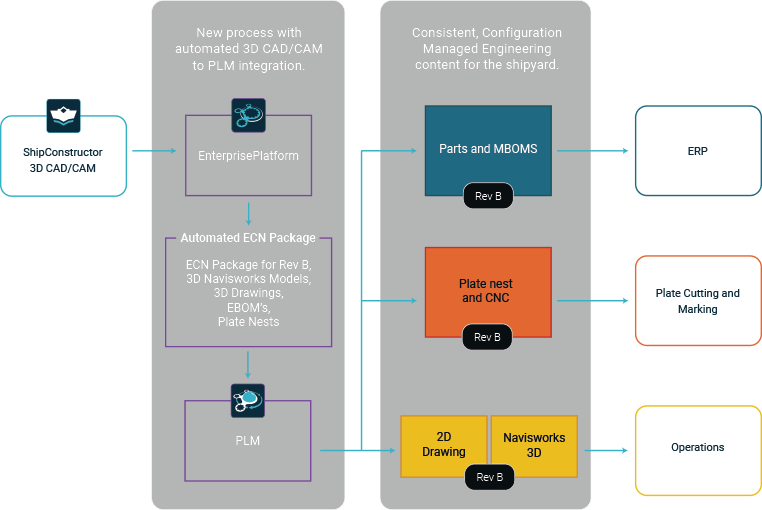 ---
The Solution
A big problem was that most PLM programs were originally designed for automotive and aerospace manufacturing and have difficulty handling the requirements of the shipbuilding industry. Most PLM systems lack the required agility and flexibility and are not resilient enough to accommodate future growth. Technically, what was required was software that is designed with an open architecture platform. The solution was to integrate SSI ShipConstructor CAD/CAM software with the ARAS Innovator PLM system using SSI EnterprisePlatform.
» Agile
The SSI/Aras solution was implemented incrementally, providing increased value to Ingalls at each milestone. The staggered implementation allowed Ingalls to replace legacy systems and processes without disrupting its current business. Ingalls did not have to "rip and replace" everything. The PLM implementation is resilient and accommodates future growth.
» Flexible
The SSI / Aras solution is also uniquely capable of handling how ships are actually designed and constructed. Most PLM systems are designed for discreet manufacturing processes and force shipbuilders to work as if they are building a series of cars; shipbuilding is NOT discrete manufacturing. In shipbuilding, you have to design, procure parts and construct the ship simultaneously.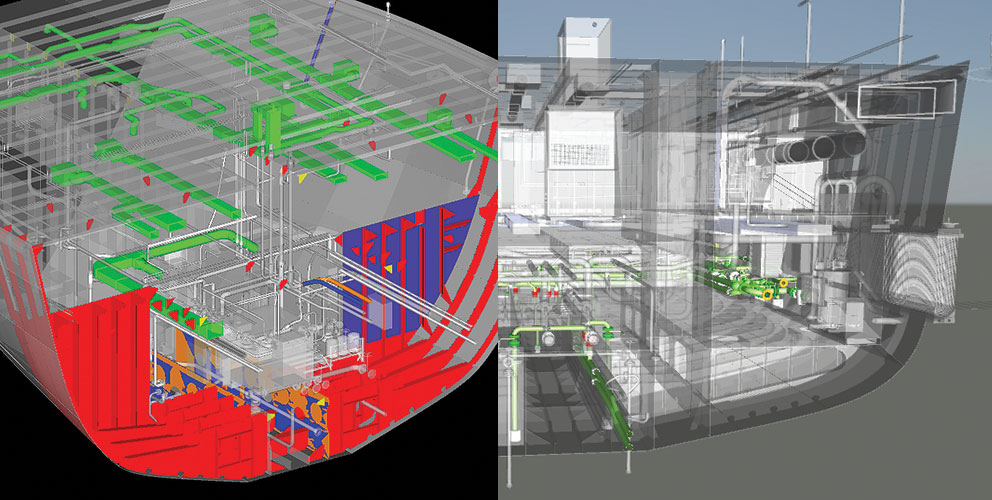 ---
The Result
Download the full case study below to see detailed information on Ingalls Shipbuilding's processes before and after implementing the SSI/Aras PLM solution, how Ingalls cut costs, and how they gained the benefits of:
Effective Change Management
---
Access the Content