ShipConstructor CAD/CAM software was used for the production engineering and detail design of the recently launched mega-yacht, Cakewalk.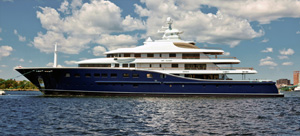 At 281 feet (85.6m) and 2,950 tons, she is the largest yacht built in America since the 1930s, and possibly the biggest ever built in the country when measured by volume.
Cakewalk, built by Derecktor Shipyards, was launched August 8 in Bridgeport, Connecticut.
The marine design consultancy firm BMT Nigel Gee of Southampton, UK utilized ShipConstructor's AutoCAD based shipbuilding CAD/CAM software for the detail design of the hull as well as for the distributed systems within the main steel structure, e.g. the engine room.
Gibbs & Cox, a Virginia-based marine engineering firm, also utilized ShipConstructor software for modeling the systems within the yacht's superstructure.
"Cakewalk is a design and engineering triumph," noted Denis Morais, Product Development Manager for ShipConstructor Software Inc. "We're proud of the fact that once again, our world-class software is associated with the construction of a world-class vessel."
To download high resolution versions of the image(s) click here.