Royal Huisman is no ordinary shipyard and this is no ordinary sailboat.
---
Supreme Comfort and Performance
The owner's brief called for a supremely comfortable oceangoing luxury sailing yacht that would also allow him to indulge in some "gentleman's racing". His dream was fulfilled with a 48 m classic sloop which goes by the delightful name, Wisp.
Wisp features a raked bow and elegant sheer line with a cutter-rig sail plan that was designed for balance and simple handling while cruising. Yet, it also features the possibility for using overlapping genoas with much thought going into the track positioning and winch sizes to handle the increased loads and speeds during regattas.
This blend of beauty and athleticism is something for which shipbuilder Royal Huisman is justly proud. Royal Huisman Managing Director Alice Huisman says, "Wisp is a shining example of how a modern sailing yacht can still impart a sense of Corinthian spirit…her quality design and construction provides ocean-going capability, comfort and performance."
---
Seeing in advance
But how does a vessel of such stunning beauty and uncompromising quality come to be built?
The answer is that an enormous amount of thought is put into visualizing every aspect of its design and production beforehand to create the most subtle curves and refined features.
This is where specialized software plays a vital role. Various programs are used to visualize the look of the interior and to simulate the performance of the yacht under sail so that the owner will be happy with the look and specifications.
However, the production team itself at Royal Huisman also takes great care to visualize things before they are constructed. In fact, Royal Huisman has long been amongst the pioneers of what is referred to as "shop floor 3D". This means that Royal Huisman uses a form of Virtual Reality (VR) to help production workers understand and visualize in three dimensions what needs to be built in advance.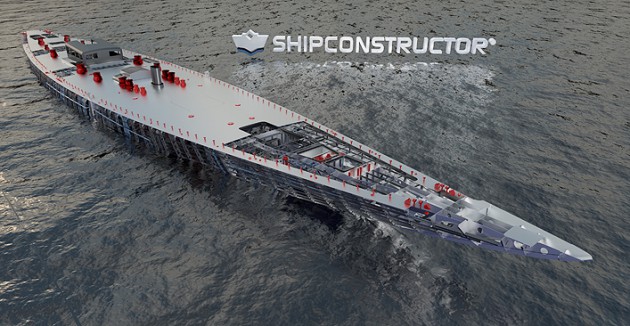 ---
The SSI/Autodesk Role
Here is where innovative technology from SSI and Autodesk comes in. SSI makes ShipConstructor software which sits on top of Autodesk's design and drafting program AutoCAD. Longtime client Royal Huisman uses the ShipConstructor application to design and engineer the details of a ship's structure and systems.
During the design/engineering process, Royal Huisman has multiple individuals concurrently modeling different aspects of the yacht, e.g. one team models the structure while another simultaneously models the piping. As they do this, in the background, a Marine Information Model (MIM) of the yacht is being created in the software storing the geometry and a wealth of attribute information about the yacht's parts.
Obviously, it is important for this work to all be in sync. Therefore, there are several error-reducing and checking features automatically incorporated into the software. However, to truly ensure that everyone understands the current state of the design and to see where things are going, a picture is worth a thousand words.
Even better, a three dimensional "fly-through" of the current state of the product model (with one-click availability of attribute data and intelligence) instantly and intuitively clarifies more than words could ever say.
---
From Virtual to Real
For this purpose, Royal Huisman uses a program called Autodesk Navisworks which is a 3D viewer that enables stakeholders to holistically review integrated models and data. Since it shares a common Autodesk platform with ShipConstructor, the integration between the two programs is seamless and powerful.
An example from Royal Huisman of how accurate teams are able to visualize things in advance using this technology can be found in the sample blended virtual/real image of a yacht's engine room below.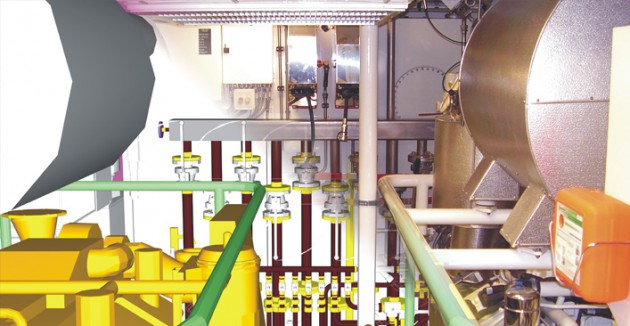 This is a good example of how the engineering team uses Navisworks to collaborate, do clash detection and optimize designs for production. But what sets Royal Huisman apart from many other shipyards is that even down where the welders work, shop floor employees use fly-throughs of Navisworks models to show them onscreen how things should go together. Below is a picture of a computer for running the program that is kept in a protective housing down in Royal Huisman's production area.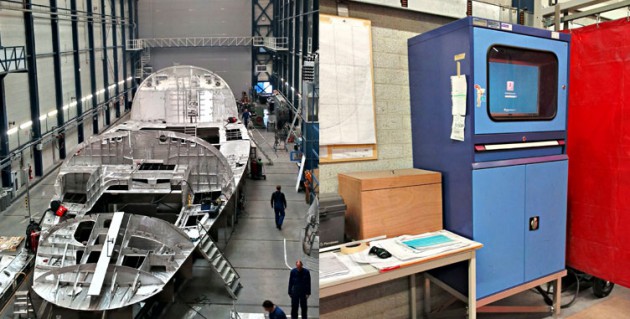 ---
Conclusion
Creating stunning vessels such as the Royal Huisman yacht Wisp, started with a vision from a prospective owner. As that ethereal vision (a concept really) became actualized in the design on through to production, software was used to visualize exactly what the yacht should look like and to ensure that everyone at the shipyard was coordinated. The result was an object of beauty. During this process, ShipConstructor and Autodesk software enabled Royal Huisman to gain a glimpse of the yacht's future splendor even before the Wisp's owner sailed her past the equally gorgeous waterfall pictured above.