Last week I attended Autodesk University at the city that does not sleep, Las Vegas. As with all conferences there is a theme that is supposed to thread all the things you see and hear into a simple and memorable message. For Autodesk University 2017 the theme was "Automation is Here." There is no doubt that the future will look different than it does today in every single industry and in our personal lives. To thrive in the future, we need to embrace the fact that change is coming and not fear something which may not happen.
This is something that we all know very well and many of us are in the midst of a business transformation which I have discussed in previous blog posts:
Digital Transformation Illusion
Business vs. Digital Transformation
Throughout Autodesk University I listened to various presentations and had discussions with various people in different industries regarding what the future may hold so I thought I would write about some of my thoughts, observations and predictions.
---
Automation will Empower People
When people hear "automation" it usually gets translated to eliminating jobs and therefore people. However, when I hear automation I translate that to eliminating the mundane activities that humans do not want to do which frees them to use their skills and do what they want to do. If we take CAD/CAE tools for example, before there were CAD/CAE tools there were about 300 thousand drafters in the US. Today there are over 10 million using CAD/CAE tools. The automation provided by these tools allowed us to be more efficient and create much more complex structures than we could have even dreamed of. In turn this create new jobs that did not even exist decades ago.
There is no doubt that in some situations, specific jobs will be eliminated; however, this usually translates to more satisfying jobs and an overall increase in total jobs. That is what has happened in history. In all the previous revolutions that were supposedly "going to take our jobs away" there was actually an increase in jobs as the image shows below. I am the first one to admit that there is no guarantee that there will be more jobs in the future; however, the best way to predict the future is to understand the past.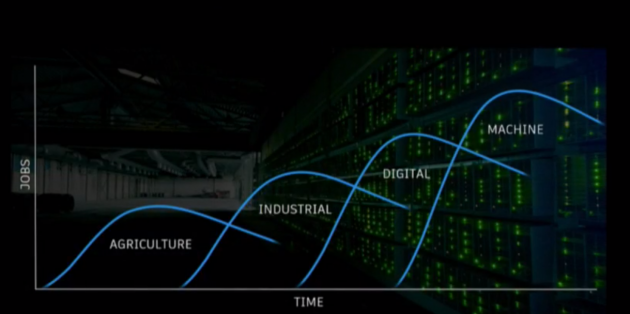 ---
Virtual Reality and Augmented Reality and "Point Clouds"
It was not a surprise that there were a lot of discussions, classes and even exhibitors regarding VR and AR. I was able to try several new solutions.
Trying on DAQRI Smart glasses. https://www.daqri.com
The quality and performance seems relatively similar to what I experienced in the past year; however, AR/VR companies seem to have refined their business to solve real problems instead of cool theoretical problems. One of the main problems with VR/AR solutions that I have mentioned in a paper I wrote was that VR/AR need to be an extension of what we do today. Previously, and in some circumstances today, creating a VR/AR scene takes a lot of effort and require a VR/AR expert. For VR/AR to be adopted by the masses, we need to have a "button click" to get a VR/AR experience. I do not think we are there today but with the examples I have experienced at Autodesk University, we are very close.
The thing I found most interesting is that almost all VR/AR solutions are incorporating reality capture (point clouds). The intersection of the two technologies seems to provide a great solution to some of our complex problems today such as ensuring that what was built is what we designed. This is moving us closer to our digital ship (digital twin) vision. It will also improve repair & retrofits and improve operations of the complex structures we are building today.
I will be testing some of these technologies in the coming months and I will share more thoughts in the coming months.
---
Generative Design and 3D Printing
There seemed to be less representation for generative design and 3D printing with fewer classes and exhibitors. However, it still seems Autodesk is pushing these technologies and understands the disruption that these technologies will have.
I had a several great conversations with the Autodesk engineers and product managers who work on generative design. Most of the in-depth conversations was lost on me as the algorithms are very complex; however, the business implications are well understood.
Generative Design has a symbiotic relationship with 3D printing and in my opinion, would be limited in value without the progression of 3D printing. There are many industries that are using generative design and 3D printing to provide us with some amazing products. Custom shoes from Under Armour were displayed at the exhibit which have soles that can only be 3D printed.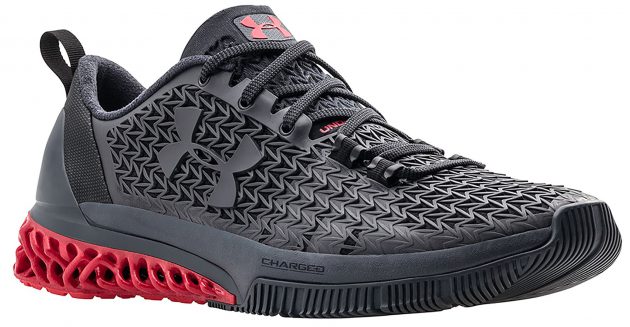 An interesting example of 3D printing applied in shipbuilding was a section of a racing yacht by Livrea.
This slice of a Yacht was 40" tall, 60" wide, and 27" deep. It was cool to see; however, at closer inspection the results of the 3D printed section were not something that is seaworthy. Some of the supporting members did not adhere to each other and therefore they needed to use black tape to make it "look" connected. Still, it was interesting to see the progression of the technology.
Another very impressive 3D printed structure was a class approved ship propeller.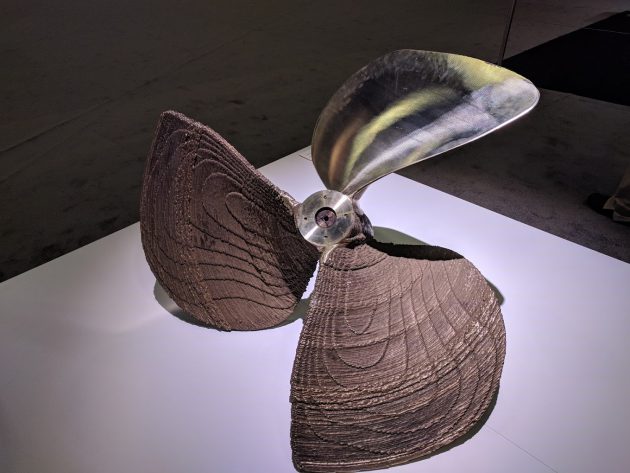 The 1.35-meter propeller is a prototype that was 3D printed out of Nickel Aluminium Bronze alloy. It will be tested this week in Rotterdam on a tug. The goal of this project is to initially print spare propellers instead of permanent ones.
---
Closing Remarks
Autodesk University is always a great place to learn from other industries and keep my head out of the sand. I do agree with Autodesk that automation is a key driver for the future. Automation will not take away jobs but rather enhance what we do today so that we can produce more, faster, better and with a lot less of effort.
The changes we are seeing and will continue to see will change our business. Shipbuilding is an industry that has been around a very long time and will be around for a lot more. There is no doubt that the new age of technology and the convergence of so many technologies will change what we do and evolve what we think is complex.