We are consistently looking at ways to be more productive these days. To that end, there are many different methods and areas where we can achieve improvements but this sometimes adds to the difficulty of where to start.
One area which gets a lot of attention is how can we leverage the wealth of information contained in ShipConstructor's Marine Information Model (MIM) and seamlessly connect currently disjointed disciplines or departments.
The benefits of automating the current workflow between these disconnected departments can be noteworthy but I think there is more of an opportunity in achieving the full potential of productiveness than just streamlining current manual process.
Having an automated and seamless way to share information will make you more productive but we also need to consider how we can use the availability of information and our current tools to introduce new improved workflows and activities. These new workflows and activities may reduce or eliminate our old workflows and therefore the need to streamline them.
In this blog post I want to concentrate on an improved workflow between engineers and production planning using ShipConstructor and Autodesk Navisworks.
Disconnected departments
In many companies the production planning team usually starts planning the build sequence well before the model is started. This planning is usually based on some good historical information (a previous similar type of ship) as well as an understanding of the yard's capabilities and limitations. This planning does not go into the detail required to build the ship but is enough to start preliminary scheduling of the production plan. This information is usually done in a planning application such as Primavera, Microsoft Project or even just Excel.
The engineering team which is creating the 3D product model uses the information from the production planning team in ShipConstructor by entering the information in the ProductHierarchy product. As the model becomes more detailed, the production planning team requires the information captured in ShipConstructor so that they can refine the production planning and ensure the assumptions which they used in creating the preliminary production schedule is correct.
The disconnect happens when the design team extracts information from ShipConstructor which is required by production planning to update their schedule. This exchange of information is static and is created by taking a snapshot in time of the project which means that the data is out-of-date right after it is captured. When production planning receives this already out-of-date information, they will need to manually enter it into the tool they are using which is time consuming and is a source of human error.
Improving the exchanging of information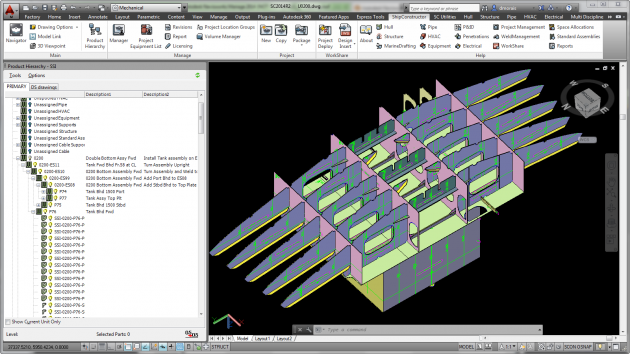 Many of you have already improved this workflow by either:
Having your production planning team use ShipConstructor to manage your build sequencing. This results in both teams accessing the same source information so everyone is working on the current version of the project. There is no need to transfer information. Furthermore, there are many other benefits from incorporating both teams on the same product model such as changes are seen by all stakeholders and no need to have additional time consuming workflows to generated files which are out of date the moment they are created.
Creating an integration between ShipConstructor and your production planning tool. There are many different ways I have seen this implemented and all seem to solve the problem of streamlining the latest information between the tools. For instance, it can be as simple as automatically populating an Excel file using industry standard ODBC.
This improved way of exchanging information between the departments is a great start but there is more you can do to improve the communication between the departments with very little effort.
Supplementary elite approach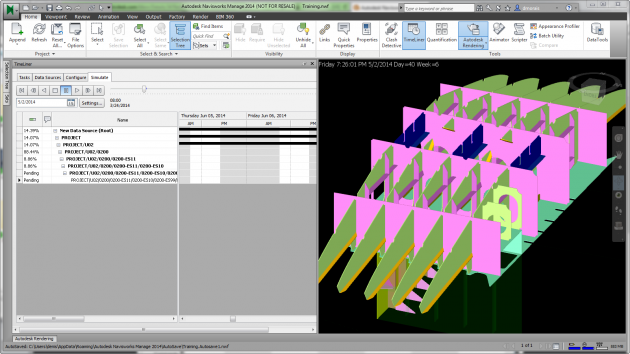 An additional approach is to allow the production planning team to visually see the build sequence using the 3D product model geometry via simulation. This approach does not technically provide any more information but rather it presents the information in a different way to allow it to be understood faster and more accurately.
If you are using option 1 from the above section, your production planning team may already be using the ProductHierarchy product to turn on and off assemblies to see how the vessel is planned to be built. However, I am talking about a more animated type of visual experience.
All the information to create a simulation/animation of your build sequence is already available in ShipConstructor and you simply just have to incorporate it into your workflow.
Using this approach may not negate the other workflows you are using but it can reduce the amount of time needed to create and validate your build sequence. It is much easier to identify issues with a simulation of your sequence than interpreting spreadsheets and Gantt charts.
Show me how it works.
Rather than write the steps out I thought it would be better to show you via a video. The video shows the steps how you can create a Navisworks simulation of the build sequence using the information contained within ShipConstructor.
You can view the video on Autodesk Project Chronicle
or YouTube
Closing remarks
There is no question that streamlining the exchange of information across departments will make you more productive. However you cannot just focus on streamlining your current manual processes, you need to also be looking at new ways you can use the information and tools you have.
A great way to use the information the engineering and production planning team creates is to make interactive simulations. These simulations are a very efficient way to communicate the relationship of the 3D part model and the build sequence to various stakeholders and departments.
With the wealth of information in ShipConstructor's MIM and Autodesk Navisworks you are able to create these valuable build sequence simulations in the time it takes you to get a coffee.