Last week I attended my 3rd International Conference on Computer Applications in Shipbuilding (ICCAS) in Bremen Germany hosted by The Royal Institution of Naval Architects (RINA). It is one of the best conferences focusing on technology in shipbuilding and it happens every second year. It is a 3 day event with 80 papers on practical applications of IT from 18 shipbuilding countries.
There were a lot of topics from many companies discussing the technologies that they have implemented, the challenges they have faced, their recommendations for others, as well as their next steps. These type of topics are very welcome since it is very hard to find out about real world experiences due to the fact that we do not have a very open and sharing industry relative to other industries.
Here are what I think were the top 3 most important topics discussed:
Industry 4.0 – Digitizing Manufacturing
Information Management Systems
Virtual and Augmented Reality
---
1. Industry 4.0 – Digitizing Manufacturing
The conference keynote did talk about Industry 4.0 and how it is and will affect the shipbuilding industry. Industry 4.0 is the fourth industrial revolution and it uses cyber-physical systems to monitor and control the physical world by using software. In essence this is the same as the Smart Factory or Smart Yard you may have already heard about.
There were not very many presentations about this topic which was unfortunate. In my opinion this can significantly change the shipbuilding and shipping industry by allowing us to better capture and then analyze the data to make more informed decisions. As we all know, building ships includes many disciplines and there are numerous activities that are happening concurrently so it is hard to make good informed decisions. If we were able to first capture all the information in the physical world and align it with all the information we have in the virtual world, we would be able to make better and earlier decisions.
We are years away from having Smart Shipyards which in our industry is not too long. There are definitely shipyards which are starting down this path today and after overcoming some challenges there are going to be some significant gains. As with any industry revolution I anticipate it will be hard for any shipyard which does not embrace Industry 4.0 technologies to compete with shipyards which do implement Industry 4.0 techniques.
---
2. Information Management Systems
There were many presentations on managing information. This includes several presentation about PLM/PDM and Model Based Enterprise. The presentations related to information management systems were very well presented by Randy Langmead, Stephen Cattanach, Daniel McKendry and the always entertaining and information-rich Nick Danese.
The good thing with ICCAS is that it really focuses on the practical application of software in the shipbuilding industry. This was done with many of these presentations which focused on how best practices were actually implemented. The key takeaways were that communication is vital and implementing your solution with an agile/lean strategy is imperative to a successful project. I have written several blog posts on these topics: Looking at Investing in PLM? and Solving the Right Problem
Here is one slide from the BAE presentation I really liked: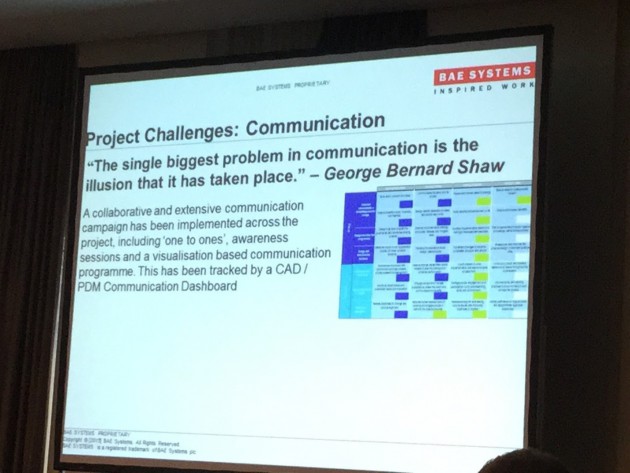 ---
3. Virtual and Augmented Reality
Virtual and augmented reality is finally being implemented on a global scale in our industry. There were several presentations related to this topic and my favorite is still using augmented reality on the production floor to install pipes. I first talked about it in 2014 in my blog post COMPIT 2014 Post-Mortem
I had several discussions with several VR vendors exhibiting at the conference about their business and how shipbuilding relates to their other markets. It was interesting, but not surprising, to hear they find shipbuilding very difficult. What I found interesting is how they talked about how the shipbuilding industry knowledge has grown:
6 years ago we had no idea.
4 years ago people were familiar with the word but did not know what it was.
2 years ago people knew what is was and thought it was cool. Did not really have plans to use it.
Today we all know what it is and are trying to figure out how to apply it.
In essence they mentioned that we are 2-4 years behind other industries.
I spent some time with TechViz and Virtalis. Their solutions are a bit different but both are very cool.
TechViz creates a virtual stereo reality scene with reading information that goes to the video card. This was a really cool idea and means that you can use your native application without any conversion of data.
The Virtalis solution on the other hand has their own application which you will need to convert your information. However, this has additional benefits such as allowing you to view much larger models, apply animations (if your native application does not support such features), apply materials and much more.
Both solutions are very powerful and depending on what your goals are will determine which system is right for you.
Here are images of me looking at data from ShipConstructor on the Virtalis solution.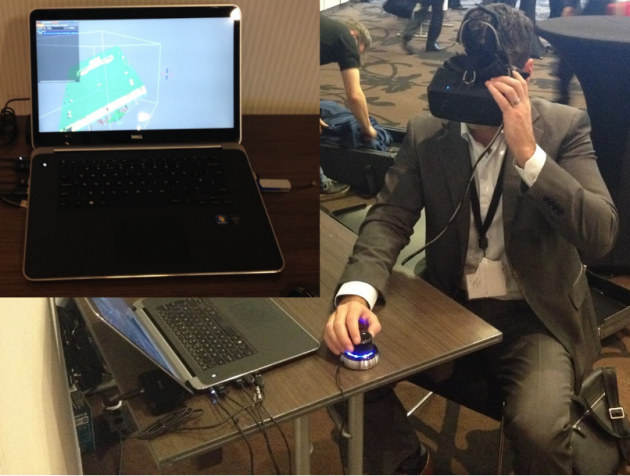 ---
What was missing from the Conference

Here are the top 3 topics I think are important in our industry which only were mentioned briefly:What was missing from the Conference
Robotics and automation: In the past 2 years I have seen an increased interest in automating many activities on the production floor. This can be to automate pipe bending and cutting, profile cutting and even complex hull structure welding (not just panel line welding).
Big data: This is tied to our Smart Yard. Big Data techniques will allow us to make sense of all this data we are receiving and make actionable decisions by converting the data into information. There is also a lot of benefit in the servicing and shipping management arena. This topic was only mentioned in the keynote without any presentations. This was not surprising as I think we are still investigating how to use Big Data and there are very few practical implementations currently.
Additive manufacturing: I do not even think I heard anything about additive manufacturing or 3D printing. Again this might be because it is simply too early in the Gartner Hype Cycle. 3D printing is being used or at least looked at by some companies in the shipbuilding industry at a real basic level. The thing that excites me about additive manufacturing is how it gave a boost to material science and the new types of materials which are planned to be used in additive manufacturing. I wrote about this in 3D Printing in Shipbuilding
---
Closing remarks
ICCAS is one of the only technology conferences focusing on shipbuilding and offshore. ICCAS covers a full range of topics such as engineering analysis, data modelling, PLM, CAD, CAM, integrated systems, knowledge management, systems engineering, simulation, visualization, processes and standards.
One of the best aspects of ICCAS is that it focuses on practical applications of technology and not just theoretical or what other industries do. It is a great conference if you want to hear what others in our industry are doing as well as make some connections to help you on your journey.
I am planning on attending and presenting another paper at ICCAS 2017 in Singapore. I hope to see many of the technologies that were missing at this year's conference there.