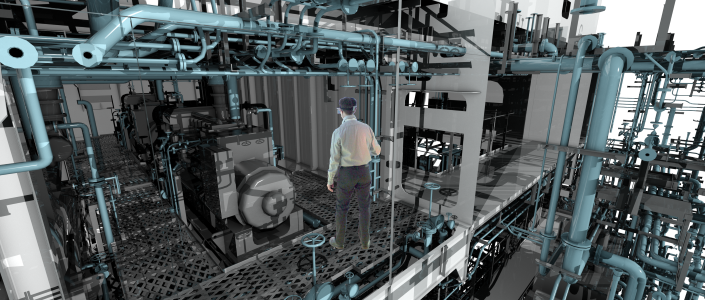 I just came back from my annual trip to Las Vegas where I attended Autodesk University. It is a great place to catch up with old friends and colleagues, meet new ones and learn what is new in the technology industry. With over 800 hundred classes, it is very difficult to decide which classes I should invest my time in.
This year I decided to focus a bit more on Virtual Reality and Augmented Reality classes. I learned several new techniques, workflows and applications to generate better Virtual/Augmented Reality models. During this trip I was able to try several different systems such as the HoloLens, Google Cardboard, Oculus Rift, and the HTC Vive. Virtual & Augmented Reality have a huge potential in our industry but they do require a lot more growing up to proliferate through our industry.
---
Virtual and Augmented Reality
Virtual Reality allows the user to immerse themselves in a pure virtual (digital) world with absolutely everything being virtual or not real. Wikipedia has a more detailed explanation if you are interested. There are different types of Virtual Reality experiences but I will not get into the details. One method allows you to look around from a single point in space as if you were only standing in one spot but could move your head. The other method allows you to move (walk) within the scene and, for example, look around a post.
Augmented Reality uses the physical world (what you would see when taking a video with your phone) and adds some virtual assets to the scene to create an augmented reality:). Wikipedia has a more detailed explanation if you are interested. I talked about Augmented Reality before in my blog post Future of Shipbuilding: Manufacturing (Part 1) but the most known example is the game Pokémon Go.
Virtual and Augmented reality are nowhere near as mature as laser scanning and I would still say the technology is immature. The eyewear is becoming better every month but still needs to improve significantly to get the experience that all the marketing of these devices is promising. Also, creating a virtual or augmented scene takes some elbow grease and requires you to really think of what is actually required in your virtual environment. You need to balance the amount of stuff you want in your virtual scene with the user experience you want the user to have. If you have too many things in your digital environment, the response time will be very slow, providing an experience to the user which would result in the user saying, "Take this thing off my head."
I do not want to throw the baby out with the bath water since I do think there are some compelling reasons for some of you to invest in VR/AR today. I just wanted to make it clear that the experience is not exactly how the technology has been marketed today. The quality is ok but not awesome, as well as you will need someone dedicated to your virtual and/or augmented reality initiative. For some of you the stage at where this technology is today is good enough and can set you apart from your competitors. For the majority which will require an easy "one button click" virtual & augmented reality solution will need to wait a little longer.
The rate of improvement with the latest hardware and software is tremendous. The quality of the devices I used last year compared to this year is staggering. Even if they continue on a linear trajectory I am sure we will be able to have a cost effective VR/AR solution that the majority of shipyards and design agencies will use.
---
Virtual and Augmented Reality in Shipbuilding
Virtual & Augmented Reality have existed for decades. I think the majority of us remember the old-school 3D movies and comic books with these glasses: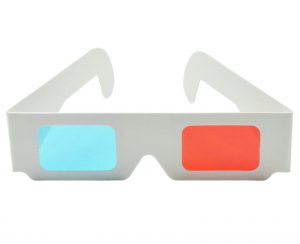 What is interesting with this technology in relation to shipbuilding is that it is going through the same path laser scanning did a decade ago:
The technology for VR and AR is becoming very affordable for almost anyone.
The software technology to create & manage VR/AR environments are getting very powerful and easy enough for anyone to leverage it.
Shipbuilding has about 10x-20x more parts than any modern car and therefore you might conclude that we are 5-10+ years away from having a cost effective Virtual Reality experience. I do not think we are that far away at all. First, I have to qualify what is "cost effective." The reason it needs to be qualified is because there are solutions today which can cost $30, 000+ which can provide a fully immersive virtual ship model. Also, there are yards using Augmented Reality today. However, when I think of a "cost effective" VR/AR solution it needs to:
cost less than $300 per person immersed in the environment
not require a full time VR/AR engineer for typical use cases
not require more powerful workstations than a typical engineers workstation
not require using some sort of alignment markers (augmented reality)
When I think about the use cases of VR/AR in shipbuilding I come to the conclusion that the models we would have to use do not have to be much more complex than for a car or a building. There is no doubt a ship has more parts but the question is "do I need to load the entire ship in the virtual environment?" For example if I just load all the information for an engine room, it would have similar number of parts of a car (40 000 – 100 000). If I am doing a review of the entire ship with the owner then I would be able to remove items which the owner does not care about that adds no addition value if it was in the model. This would accelerate adoption in our industry much faster.
In the coming months I do plan to invest some time and even some hard earned money to see the limits we can push the technology today.
---
Closing Remarks
Virtual Reality and Augmented Reality have actually been around for a very long time; however, it should still be considered immature for the mass market. The hardware systems do not have the quality to make it a must have system and the software to create and manage the environment requires expert VR/AR engineers.
Even though the technology is immature, there is still opportunity for the early adopters to leverage what is available today and create some compelling digital environments for you or your customers. It will require some more expensive hardware (relative) and some really good VR/AR engineers.
However, the technology in this space is growing so rapidly I am sure I will look at this post only a year from now and be amazed at how much has changed in just a short period of time. A VR/AR expert told me that things are moving so fast that after 6 months he would become a newbie if he did not continuously update his skills. Just crazy.
I do not want you to think I am not enthusiastic about VR/AR. To be honest, I am really excited about using the tools and techniques I learned at AU and I plan to write about VR/AR a lot more in the coming months.