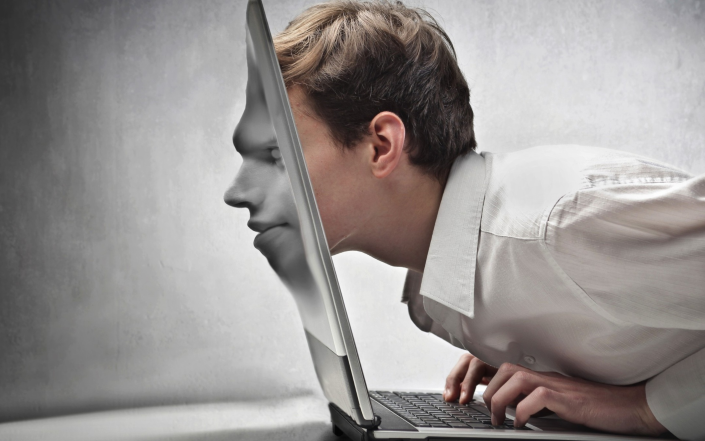 At Autodesk University I had the opportunity to try various Virtual and Augmented Reality systems. I was able to experience the HTC Vive, Microsoft HoloLens, Facebook's Oculus Rift and Google Cardboard. Each system has a totally different experience, somewhat by design. As well, each system I tried had different virtual models so it makes it impossible for me to do a direct comparison. I am definitely no VR/AR expert but I thought I would go through each of the devices I used recently and provide you a brief commentary on them.
---
Google Cardboard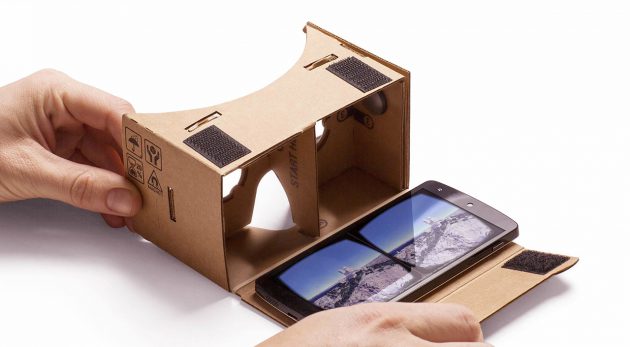 Wikipedia Description
Google Cardboard is a Virtual Reality (VR) platform developed by Google for use with a head mount for a smartphone. Named for its fold-out cardboard viewer, the platform is intended as a low-cost system to encourage interest and development in VR applications.
My Review

I have used Google Cardboard for several years and got reacquainted at Autodesk University. Google Cardboard is the poor man's Virtual Reality with the viewer hardware actually being made out of cardboard. You can get non-cardboard ones as well if you want to spend more than $20.
With the Google Cardboard you use your phone as the screen and place it in the cardboard viewer. The quality is not the best but with the ability to take 3D panoramas on your phone and play 3D games for free, it will provide you and your family a lot fun as it has mineJ.
I also think it can be a very easy and cost effective way to illustrate Virtual Reality to decision makers in your company. It most likely will be enough to get someone to understand the possibilities of VR within your company.
---
HTC Vive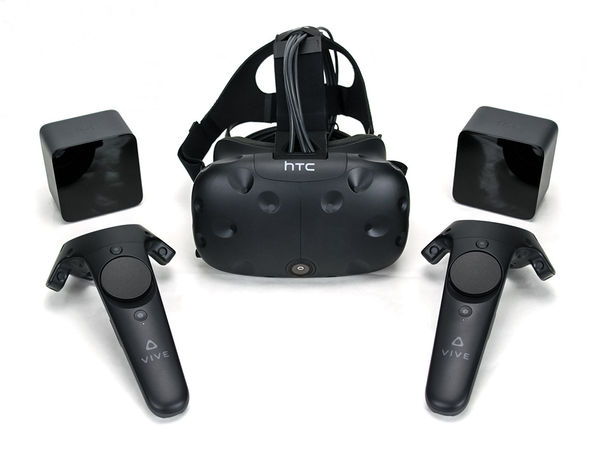 Wikipedia Description
HTC Vive is a Virtual Reality headset developed by HTC and Valve Corporation, released on 5 April 2016. This headset is designed to utilize "room scale" technology to turn a room into 3D space via sensors, with the virtual world allowing the user to navigate naturally, with the ability to walk around and use motion tracked handheld controllers to vividly manipulate objects, interact with precision, communicate and experience immersive environments.
My Review
HTC Vive had one of the best experiences I have had with any Virtual Reality system. Remember, I am no expert and have not used many so take my comments with a grain of saltJ. The model that was loaded was a car, which you may make out in the video above. I was amazed at the quality when I used it compared to the Oculus Rift and the Google Cardboard. Having said that, if I had not had previous experience with any other VR system, I might have been disappointed because I was barely able to read the odometer numbers. Sometimes people have heard too much hype about VR and have unrealistic expectations. However, the quality was decent enough that it impressed me.
The joysticks were interesting and took a while to get used to. It was very cool that you can walk around in the physical world as you actually move around in the virtual environment. The tracking of my physical movement was naturally represented in the virtual environment in a responsive way. I did not get any eye strain or motion sickness at all.
The biggest issue with the HTC Vive was that it requires a cable to be connected to a computer which I got tangled in a few times. Supposedly they just released a wireless accessory but at the time of this writing I am unfamiliar if the quality will suffer.
Overall I really enjoyed using the HTC Vive which had the best VR experience so far.
---
Oculus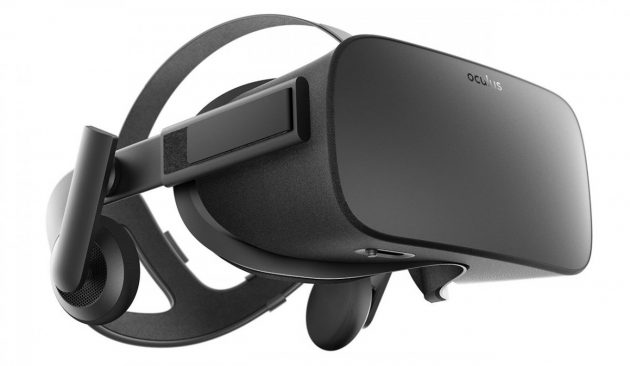 Wikipedia Description
The Oculus Rift is a Virtual Reality headset developed and manufactured by Oculus VR, released on March 28, 2016.
The Rift has an OLED display, 1080×1200 resolution per eye, a 90 Hz refresh rate, and 110° field of view. It has integrated headphones which provide a 3D audio effect, rotational and positional tracking.
My Review
SSI purchased the Oculus DK2 over a year ago so I am familiar with the Oculus.
I did not find the Oculus to have the same quality as the HTC Vive. The Oculus does have audio but that was not something I tried.
Just like the HTC Vive the Oculus is recommended by "experts" to be connected to a very powerful computer. When I looked at the computer requirements online I was surprised how low they were. Maybe I have a different definition of what is considered a powerful machine.
Oculus is more of a seated experience where you can move your head but you cannot walk around the scene. Supposedly Oculus can support movement with the Constellation headset positional tracking system but this was something I did not experience in my demonstration.
---
Hololens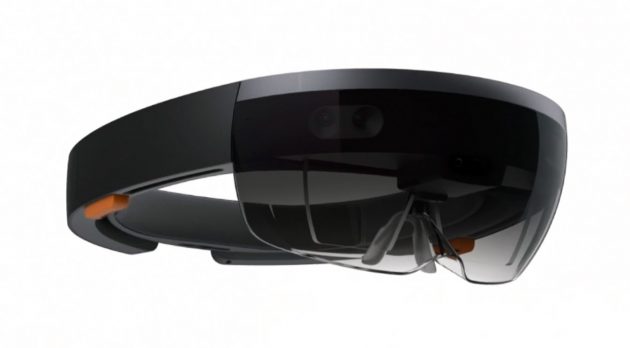 Wikipedia Description
Microsoft HoloLens, known under development as Project Baraboo, is a pair of mixed reality smartglasses developed and manufactured by Microsoft. HoloLens gained popularity for being one of the first computers running the Windows Holographic platform under the Windows 10 operating system. The HoloLens can trace its lineage to Kinect, an add-on for Microsoft's Xbox gaming console that was introduced in 2010.
My Review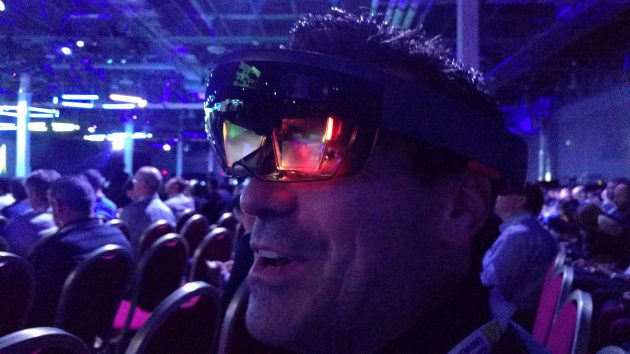 I got to try the HoloLen 100% by fluke. I was getting coffee before a keynote where I ran into Kean Walmsley and guess what he had with himJ…yes a HoloLens. After a lot of begging and offering to name my third child Kean I was able to try out the HoloLens.
HoloLens is completely different than the VR headsets I tried since it provides an augmented reality meaning that it adds something virtual to the "real" world. In this case it was a robot. It was the same robot that he used for his presentations as well as his blog.
I was surprised when I first put on the HoloLens that the digital image was constrained within a box, meaning that the digital image did not use the entire screen. I understand why, but I guess from the videos I saw, I just assumed the digital objects would expand throughout my entire field of vision.
I used the HoloLens while I was sitting waiting for the keynote presentation so I did not get a chance to move around the model.
The quality was pretty good and I did feel that the digital robot was more "real" than my other VR experiences. I am not sure if it is because of the quality of the HoloLens or better textures on the robot model or because it was a smaller though more detailed model or maybe because the majority of the scene was the real world that my brain played a trick on me making the digital artifacts look more real.
It was nice that the HoloLen does not require you to be anchored to a computer allowing you more freedom. I guess that is why it is so expensive (~$3,000)
---
Recommendations
I know one common question that people have is which system I should invest in. Almost every VR/AR expert that I asked this had a different answer which is not a surpriseJ. However, once I starting constraining the scenarios in which I would be using the VR/AR, the answers were pretty similar amongst all the experts.
Here is what I have found so far:
Use Case
System of Choice
Experimenting and discovery with VR.
Google Cardboard,

Google Daydream,

Samsung Gear VR

Virtual Reality that will be stationary in your office/home
HTC Vive
Virtual Reality system that you will be taking with you to client visits and therefore needs to be more mobile.
Oculus Rift
Augmented Reality
HoloLens
---
Closing Remarks
Because Virtual & Augmented reality will have such an impact on our future, there are many companies investing in building virtual and augmented reality systems. This will be good for us as this means that there will be a lot of options and the investment for these systems will be relatively low.
I have only tried a very small subset of the systems that are more focused on the consumer markete but even today, there are a lot more. Some other common systems are: Samsung Gear VR, Google Daydream, Fove VR, Razer OSVR HDK 2, Sony PlayStation VR.
Picking a system to use can be tough and it does not look like there is a clear winner at this time. One person mentioned to me that it does not really matter which one you pick at this stage, just pick one and go with it.
If any of you have had experience with any other VR/AR systems I would be interested in your thoughts.