Last week I was at Autodesk University in Las Vegas which as usual was a great event but also extremely tiring. This year was Autodesk's focus on Data and "Automation."
Automation has been changing how we work and what we make for centuries. From the first steam engines to the first mechanized assembly lines, and from the first mainframes to the first personal computers, each technological advance brings transformations to our world and our work.
Here are some of my takeaways or the things I am still digesting.
---
Data, Data, Data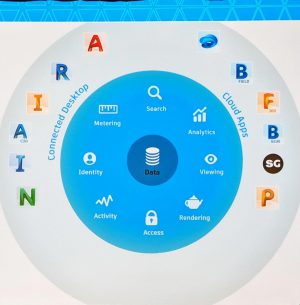 It was clear from the start of the conference that Autodesk is starting to put data at the center of everything they are doing. This is not just data for a specific application or discipline but rather looking at the data from a holistic perspective. Today's environment requires multiple disciplines from different companies, located in different countries to complete any project. The data, or subset of the data that is authored by any stakeholder using whatever application, needs to be available for other stakeholders using different applications.
At a high level this story or "strategy" is a common one which is part of many companies' message. However, for Autodesk I think this may be a significant mindset change for them. The main reason is that they are very file centric. Almost all of their applications have a unique file format and the integrations or the reuse of that information across their applications are not as good as someone would expect. This problem or challenge is not unique to Autodesk, it is common for many software vendors, especially if they grow non-organically via acquisitions.
Importing and exporting files across applications will not satisfy their vision but more importantly will not satisfy customers' needs today and will less satisfy their needs in the future. One of the general ideas I heard was rethinking how to represent data from each of their products so that any product could read the data and represent it in whatever way makes sense. For example, if they were able to represent a part as an [Object with attributes], then another product could read that [Object with attributes] and use what it needs to display it natively. This could simply be a display of the bill of material information with no geometry or just a display of the centerlines of a piping system and not the 3D parametric model. Overall, I think the idea is not new; however, I will be very interested in how this progresses in the future.
This new vision or focus on data will also will have significant changes to Autodesk's cloud solutions and products. Currently Autodesk have many overlapping cloud solutions and have not really unified the underlying data model to allow a seamless flow of information. I know this was and continues to be the plan especially with the Forge platform. If you recall from last year they talked about a unified platform called Quantum which was to blur the lines of where one product starts and one ends. Quantum has had a bit of an evolution and even though the vision seems the same, their strategy seems more complete. Below is an image I captured about the future of Forge which I think is awesome.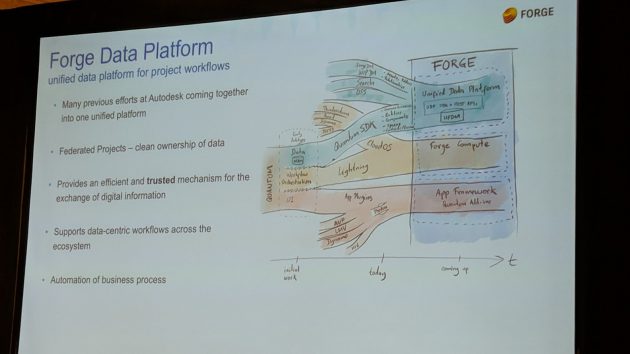 ---
Data Ownership
With all this talk about data it does start raising the question of data ownership. We have all heard the phrase that data is the new "oil" and whoever owns it will be the king.
From a software vendor like Autodesk perspective it makes absolute sense that they will want all the data in their ecosystem. Having a strategy that focuses on data that can be leveraged in any of their products as well as easily available in other competitor's software makes great business sense. So even if a company is not using your products, if you have their data, they are still your client. Being the platform that holds customer data is the strategy that all of Autodesk's competitors are going for; however, Autodesk seems to be slightly different by allowing external companies, including competitors, to have easy access to their data.
From a customer perspective though, who owns data is going to be very grey because information will be authored in one application via one stakeholder but modified by another company/stakeholder who ends up owning the data. This is already a problem and will continue to be a challenge as every company wants to also own as much data as they can. I see this challenge getting even more difficult as data becomes more "unified"; nevertheless, this will be a good problem to have.
---
Automate
I did not like the "Automate" word as much, as many of the strategies they made which revolved around data were not really "automation." Data will not be transferred but rather accessible and available to be used by anything in their solution. This might just be how I interpreted the "automate" word in relation to data but by the way they talked about data, it was clear they did not mean it that way.
On the other hand, automating workflows or processes as well as the physical world with robots was a strong element in their message. I think we all understand that the future of the majority of industries will have a strong automation component and therefore it is good that it is part of Autodesk's story.
---
Autodesk Partner Ecosystem
Another takeaway I got from Autodesk University this year is the strong appreciation for their partners. This is obviously important to us as one of their bigger partners. It was clear from the presentations, but also from the general casual conversations with the Autodesk team that they feel that to be truly successful and to take on the world, they need to create a platform that 3rd party developers can easily and quickly extend to solve specific problems. An example of this is that they are exposing all the APIs they use for their team to their partners. As well, all their products will be using the same platform that their partners will. This is called dogfooding and is music to my ears from a partner which extends the Autodesk platform.
---
Cool Technology
There is always some great technology displays at AU which seems to mostly expand on previous years. I do not want to take away from it, but I think you are probably aware of most. Also, it is hard to determine which technology is cool and has enough business value to implement vs. ones that are just cool, but the business value is not there, or more accurately there are other things we can do with more value and less effort.
However, there was one thing I saw which totally changed my thinking around generative design. I have blogged about generative design before:
By Itself Generative Design is not Important
Generative Design in Shipbuilding
Future of Shipbuilding: Detail Design and Production Planning (Part 2)
Autodesk University 2017 Review
The reshaping of my thinking around generative design happened at the Manufacturing Keynote. There was a company that wanted to improve a design of a part (image below). They used generative design after I think 4 hours of training and got some unique designs for the part. The generative design part produced some unique designs which perplexed some of the engineers ("How is that a better design"). However, what they did is they used that generative design part solution and created a part using similar characteristics but made it so that it could be fabricated using traditional methods (aka not 3D printing). The result was a part that was significantly lighter and still provided the strength they required.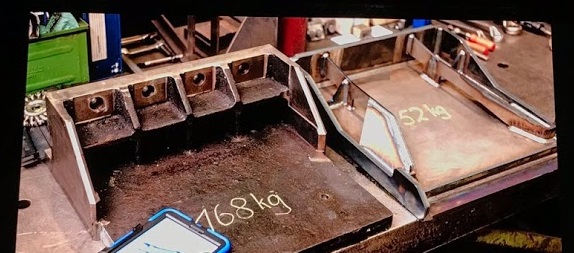 The idea of using generative design as a starting point totally changed my appreciation for it.
Another interesting thing that happened at AU was Autodesk and Unity communicated a partnership which will bring VR and AR as a first-class citizen into Autodesk products. It does seem that the AEC will be getting the first view of this partnership; however, hopefully it will find its way into the manufacturing product portfolio.
---
One Thing Missing in Autodesk's Story
One thing I see missing from Autodesk's story is on the operations side. If you look at other similar companies, they seem to have a much stronger focus on operations. I am not sure if this is intentionally left out as they do not plan to focus on it or possibly they plan to focus on operations in the future.
---
Closing Remarks
I personally like the idea that Autodesk is focusing on data first. I do however think it will be very challenging for Autodesk to come up with solutions where data from the different applications can be seamlessly used because of their file centric product base.
I hope to see the line start to blur across applications where it will be hard to know when one application starts and another one ends. Users should not have to worry about how the information they need was generated nor should they have to worry about automating the transfer of information across applications/solutions. Importing and Exporting should be a thing of the past for any products of the same vendor. I truly believe that if information cannot flow naturally within a company's product portfolio, how would you expect information to flow freely across with other vendors?
Having a "data" first mindset really changes how Autodesk will go about solving future problems. I look forward to seeing how this reveals itself in the next year. I sure hope it is not "The Vision This Year" type of vision.