Many of us have now transitioned from transferring files using inherently insecure ftp and email to a service such as Box, Dropbox, OneDrive, Drive, etc. These transfer protocols are great but in some cases you are sharing information with someone who does not have the same CAD environment as you do. This means that you usually need to get the recipient to install some sort of viewer or resort to sending some generic representation of your model such as 2D PDFs. Fortunately, a new capability is now available; if you are using Box file sharing service, the person that you have shared your files with can now open them without having any CAD environment.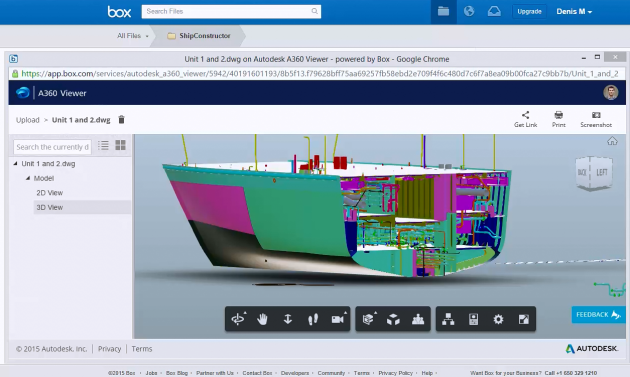 Box and Autodesk have teamed up to allow anyone who is using Box to open many different formats without leaving your browser. The formats that are listed as being supported are: DWG, DWF, DWFX, DXF, NWD, F3D, IPT, STP/STEP, STL and IGS/IGES. The most intriguing and probably the most important from my point of view is Navisworks NWD. However, when I tried to test it, it was not working for me. Since the Autodesk A360 Viewer is using the same general A360 Viewer I blogged about previously Your One and Only CAD Viewer, I suspect NWD and many more formats are going to be supported shortly.
There are 3 main use cases I can see that this service will support:
1. Internal non-CAD stakeholder to view deliverables
Within your organization there are stakeholders who will like to review daily progress of your model or the deliverables to be sent to your customer. In some cases these users do not have the CAD environment installed on their machine which is usually underpowered anyways. By using Box, any user can treat a folder as a "network" drive and update the latest model or deliverables in that folder. The file sharing service Box will handle giving access to everyone who has permission to the "folder" in various different environments (desktop, mobile Apps, browser). The internal stakeholder can at any time review the model in a browser on their desktop or even on a mobile device App.
2. Customer viewing deliverables
Your customer may or may not have the same CAD environment as you do. Even if they do there are stakeholders in the company who will need to review some portions of the deliverable (e.g. Navisworks model) but who do not have the appropriate application installed. This can be really challenging for the design firms that deal with many different clients. Using Box and the internal viewer will allow a streamlined and similar workflow for all your clients.
3. Mobile view of your model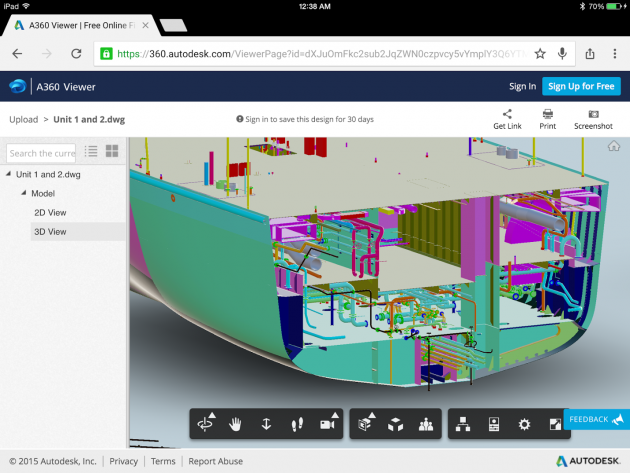 I do seem to be asked more and more to be able to view models on mobile devices. There are already several ways you can do this and using Box and Autodesk A360 Viewer is just another way. When you view the model in the Autodesk A360 Viewer for Box you can share the link to the model. With this link you can view the model on your mobile device without any App.
---
Video Demonstrating Workflow
For those who do not have access to YouTube click here:
---
Closing Remarks
With the trend of shipbuilding leaning towards more lean internal engineering teams and leveraging external teams for many services, there is going to be a higher need to optimize the way we share data. We traditionally used ftp and/or email but these have some security and size limitations.
File-sharing services such as Box, Dropbox, OneDrive and Drive offer some cost effective and very easy options to share data. These are "cloud" solutions and many of you will not be able to use them for various reasons but I have seen a higher usage in our industry just in the last year. For the record, some people have used these file sharing services not because their company allows it but rather because their company did not "officially" disallow it. Many companies are using these technologies without even knowing it.
Features that allow your models to be viewed without any additional software leads to some significant benefits including cost savings. We will see a lot more of these types of features implemented with other file-sharing services very shortly…this is just the beginning.