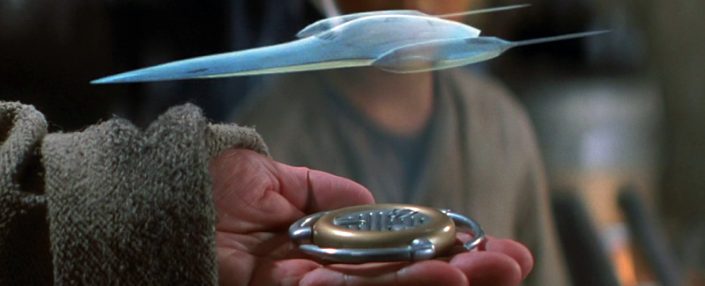 In my previous blog posts I talked about the main drivers that are paving the way for us to change how we build marine structures in the future. I also talked about the changing environment that is evolving how customers determine their requirements and how we process them to design the marine structure. Now it is time to focus more on where the rubber hits the road on the waterfront.
The majority of the time and cost of a ship is on the waterfront so it is understandable that many of improvements we will see in the future of shipbuilding will be on the production floor. Even though there are many technologies and processes that we can adapt involving new mature or soon to be mature technology, it will come at a larger initial investment than leveraging technology in other phases of shipbuilding. This might pose a challenge for the shipbuilding industry to incorporate so I will discuss it in more detail in a future post. However, the most interesting technology we will be using will be on the shop floor.

Digital Shipbuilding
Get a first-hand experience of what the design, build, and maintenance phases are like in an increasingly digital shipyard.
Experience now
I will focus on some main challenges that we will be solving in the future of shipbuilding with several technology innovations:
Communication & Verification
Workers Safety & Security
Cyber-Physical Systems and Automation of Machines
Drones (UAV) & Autonomous Vehicles
Internet of Things (IoT)
3D Printing (Additive Manufacturing)
---
1. Communication & Verification (with no Paper :))
In today's world of shipbuilding we mainly communicate with the production floor via paper. It is quite an amazing journey we have taken with 2D paper drawings because the amount of information we can cram onto a single sheet of paper is absolutely amazing.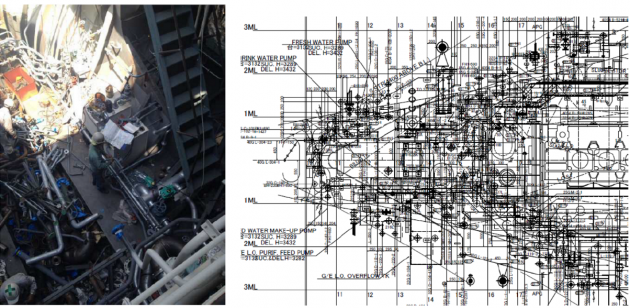 I have been in the shipbuilding industry for a long time and I have no idea how some grey beards can translate the information in these drawings into a mental 3D view of the ship. This amazing skill that our current yard workers have is a skill that the generation set to replace them is not learning, possibly because they do not want to. That's a problem related to communications that will increase in the future.
Another problem happening right now is there is not enough communications with the production floor before construction starts and even after construction is complete. The future of shipbuilding is really going to focus on connecting systems and people with the shop floor being a key piece of this puzzle. The future of shipbuilding will improve:
Communicating before any Physical Construction Starts
Communication during Manufacturing
Communication of Progress
I. Communicating Before any Physical Construction Starts
A common thing you hear in shipbuilding is Production Engineering. The source of this is because when we are designing a marine structure we always need to be aware of our production capabilities. This includes materials we purchase, equipment, facility constraints such as crane size per station, fabrication capabilities such as the maximum size of plate we can flange, preference of construction sequence, etc. Even though designers are aware of the majority of these considerations, during detail design it is often the case that a single constraint is overlooked which can have significant downstream consequences.
This is where you will see changes with how the engineering design team, the production team and various other disciplines communicate and more importantly collaborate. Throughout the design process the members from engineering and production from various disciplines (Hull & Structure, outfitting, etc.) will review and discuss the current design.
That is similar to what some yards are doing today but it will be taken to the next level with Virtual Reality and the ability to connect to other systems. Virtual Reality will be used to show the final 3D model with rich data as done today. It will allow anyone without any CAD experience to move through the model, retrieve properties as well as markup/comment the design. It will be done in a Virtual Cave environment or using multiple large 3D screens that do not require any type special glasses.
The additional benefits we will have from virtual reality is that we will be able to actually see how the ship will be constructed at the yard by connecting to other systems which have information about the schedule and logistics of the resources required and movement of assets through the yard. Virtual Reality representations will show the sequence of each block at each station and the progression of the blocks to create the ship. There will be also be a virtual representation of the shipyard, by either 3D laser scanning or a 3D model. This will provide an improved experience and understanding of what is happening and offer the potential to find interferences during the moving of assets.
At any time, we will be to interrogate the information at each stage, such as the amount of welding and type, the manpower estimate, transport requirements, temporary structure for stability or lifting and turning as well as the lifting and turning simulation.
This type of communication will present the whole picture with extreme clarity for all stakeholders. Decisions will be able to be made and in some cases will be displayed visually immediately during the meeting instead of days after. This will improve collaboration between all stakeholders and allow them to first identify and then correct any critical issues before they become real issues.
Another form of communication will be with 3D Printing. Virtual communication is great and has tremendous benefit; however, in some cases it will be easier to communicate with the shop floor via something physical. The ability to 3D print a miniature size version of a particular stage can communicate the design intent very clearly. We will also be able to use different color to represent the items which are already built prior to coming to this stage as well as the items which need to be installed at this stage.
II. Communication during Manufacturing
As mentioned, the key current method of communication during production is via disconnected 2D printed drawings. This was the best way to transfer the design and production intent in the past but will be replaced by more sophisticated and efficient strategies.
At the start of a shift there will be a large visual representation of what your team will accomplish today. This could be by simply using a very large screen of a 3D model or some sort of hologram. This will make sure everyone clearly sees and understands today's goals. There will also be the ability to interrogate the visual representation to acquire additional information that will be related to one's job.
Another change will be the increased implementation of practices related to a Model Based Definition (part of a Model Based Enterprise.) What this means is that a technical package is created with all information required to build an assembly/block/unit/panel/etc. It includes a 3D model and all non-graphical information. In the future we will improve on how this is being used today because instead of delivering a package we will retrieve the information without the need to pass a disconnected package. This package will include the traditional 3D model and manufacturing details but also much more.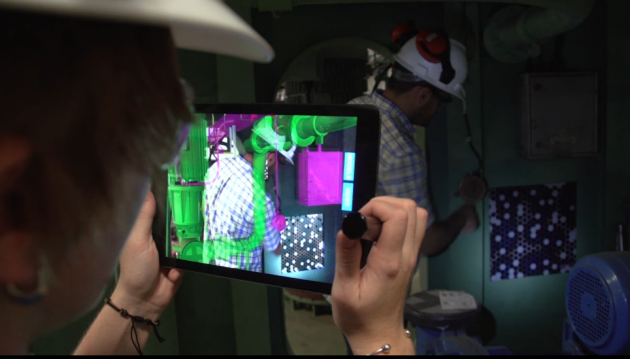 We will also be able to retrieve information that will allow us to use Augmented Reality to visually see what we are producing in relation to the items already built. Imagine you are pre-outfitting an assembly and you have the ability to use the information you retrieve to overlay what is to be added at this stage (ex. Pipes). It will be 100% clear what the assembly will need to look like when it is completed. In this Augmented Reality view, you will be able to see dimensions and all relevant information you require. You will also be able to interrogate the virtual items to get more information.
During construction and using the Augmented Reality view you will be able to clearly see what was installed properly, what was not (ex. Pipe is installed 100mm off), what is still needed to be installed as well as which temporary structure still needs to be removed.
III. Communication of Progress
During the day as construction progresses there will be communication back to report on progress. This can be used in a form of using the Augmented Reality view or the virtual reality model. This is where a user will simply check off the items installed and/or the welds complete and/or the items fabricated. This information will go back to a system which is monitoring the schedule and identifying bottle necks or potential costly delays.
If during construction there is a problem with the design, the shop floor user can simply request guidance from an engineer via their virtual dashboard. This request will be processed by an external system that knows which engineer to request taking into account knowledge of the specific design in question, availability of engineer (I still assume vacations will happen in the future:)) and various other considerations. The engineer and the shop floor stakeholder will resolve any issues/questions and if there is a potential design change the 3D design model will be updated as well to reflect the decisions they have chosen.
After the construction at this stage is complete, it is time to communicate the final result. In theory what was finally built should be exactly what was designed. However, there are still potential areas of mistakes due to miscommunication. For example, if there was a design change found during construction as mentioned above the change on the production floor would have to happen before the designer could make the change in the 3D model. If there is a misunderstanding between the two of what the resolution would be (we are still just human in the future) then what was built might not be what was designed. This is why the last step will be to laser scan the assembly to be stored for future reference. The scan will be conducted automatically either by pre-installed 3D scanners at the work station or by drones which are equipped with the appropriate cameras/scanners. This 3D captured data can be used to validate what was actually built with what was designed by using a comparison tool which exists even today.
---
Next Blog Post
In the next blog post I will continue the discussion of how manufacturing of a ship will be executed in the future. It will include topics
Workers Safety & Security
Cyber-Physical Systems and Automation of Machines
Drones (UAV) & Autonomous Vehicles
Internet of Things (IoT)
3D Printing (Additive Manufacturing)
---
Blog Posts in the Future of Shipbuilding Series