In this Future of Shipbuilding blog series, I discussed how the future of shipbuilding looks like while peeking through my crystal ball. For the record, I do not have a real crystal ball :). We discussed how shipbuilding is at a tipping point and will see some significant changes in the next few decades mainly due to the very powerful drivers forcing us to change. Also, I have said that the amount of acceleration in mature technology coupled with the feedback relationships enables us to have many more tools in our tool belts to solve our current and future challenges.
It is time to look at the journey we will take to get to the future. As with any journey, there will be rough patches as well as many surprises that will cause us to pivot our direction.

Digital Shipbuilding
Get a first-hand experience of what the design, build, and maintenance phases are like in an increasingly digital shipyard.
Experience now
---
Is the Future Really Going to be as you explained?
To be 100% honest, I highly doubt the future will be exactly as I explained. This is because I am very certain that we will have some new innovative solutions to some of our challenges that we simply cannot even fathom today. Those different solutions could substantially change the course that the future will take.
However, I do think the future will contain many of the items I have listed in this blog series. I know some of you might be thinking that I am suggesting that we are going to have the shipbuilding equivalent of flying cars in the future:) My response is that the things I am talking about are not farfetched. Many of the solutions and technology I have discussed in this series are close to becoming mature (1-5 years) or are already being implemented at some shipyards. There are some really strong forces requiring us to change and some really good and mature technology becoming available so I think it is reasonable that we will see a future similar to what I have described.
Yet, things will not happen all at once. As mentioned, it will be a journey to the future and on this adventure I do see many speedbumps, minefields and what today seems like impossible to cross roadblocks.
---
People – Obstruction or Boost?
The biggest unknown with respect to which path we will take to the future of shipbuilding has to do with people. As history has shown, technology or innovation has never really been the main issue; people on the other hand, have typically thrown up roadblocks. The three main people challenges are:
1. Regulatory
Shipbuilding is a very highly regulated industry. Regulations are required to keep the general public safe and ensure that industries and individual companies are operating within a certain code of ethics. However, regulations are often outdated and created by policy makers who do not have a holistic view. In some cases, regulations are created more for a political benefit than economic or citizen benefit. There are a lot of the new markets and technologies with the ability to positively shape the future for our grandchildren but some incorrectly applied regulations could stifle innovation.
2. Classification Societies
Classification societies have a huge role in the future of shipbuilding. With the majority of ships built being required to go through class approval, the rules and regulations classification societies develop and impose are going to be very important. I see that classification societies are increasingly involving themselves with many innovations with hopes of being the dominant regulatory society. I am going to be very interested to watch how classification societies handle 3D printing and the new materials that are being developed. I have seen a lot of quick movement by the aerospace industry and just hope shipbuilding will follow.
3. Industry Key Influencers
Change is hard…for people. Every industry has several key figures who we look up to. When they talk, people listen. These leaders can have a tremendous impact on how fast or slow an industry will adopt something new.
---
Bits & Atoms
I often talk about technology innovations in bits & atoms. Bits, in essence, translates to something that is digital and atoms, to something that is physical. Let me give you an example. The browser or application you are reading this on is possible because of innovations in bits and the physical thing you're looking at (computer, tablet, phone, Hololens:)) is the atoms.
Before the "Information Age", atoms were the dominant source of all revolutionary and evolutionary innovations in human history. In the digital revolution, bits have been at the epicenter of the majority of innovations. The digital world we have today did not even exist 20 years ago. Relatively recently we have seen more focus on innovations combining bits and atoms which has been influenced by the tremendous parallel acceleration of bits and atoms innovations. Some examples are:
Smart Phones – Atoms: powerful computer the size of a credit card, cameras, battery power, touch screen, storage, etc. Bits: social media, cloud apps, infinite computing, etc.
Smart watches – Atoms: battery power, powerful miniature computers, sensors (e.g. heart rate, accelerometer), etc. Bits: software, connection to digital life, apps, etc.
3D Printing – Atoms: Material Development, quality components which are cost effective Bits: Easy creation of 3D model, generative design, free form, converting of 3D capture data
Robots – Atoms: powerful and small microcontrollers, inexpensive components, sensors, etc. Bits: development tools, artificial intelligence, etc.
Home automation – Atoms: small, cheap sensors, locks, motors, etc. Bits: cloud, personal command centers, analytics, big data, artificial intelligence, etc.
Etc.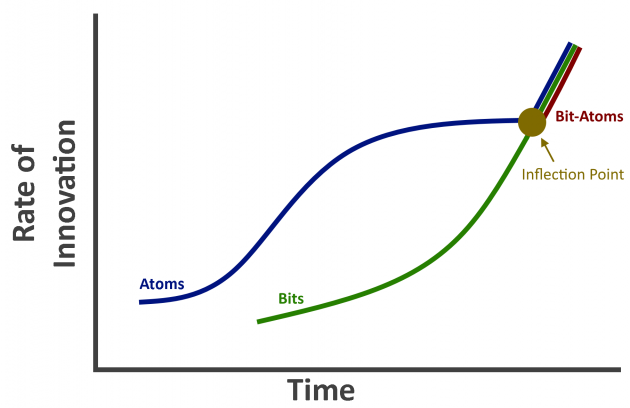 The collision of bits and atoms is creating another inflection point where innovation will increase its rate of impact to what we do. We will see innovations in 3 areas:
Bits
Atoms
Bit-Atoms
---
How does this effect Shipbuilding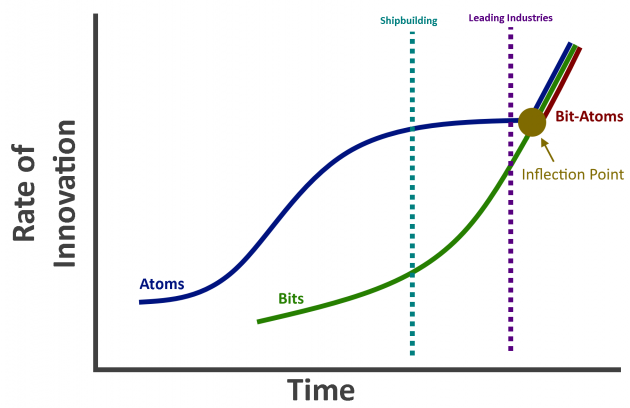 Shipbuilding is behind many other industries in adopting technology, which is not a surprise to anyone. While many manufacturing industries are starting to adopt more bit-atom (e.g. Cyber physical) systems, the shipbuilding industry is still in the middle of its digital age and is manly concentrated on bits. There are always occasional instances where shipbuilders are working with innovations with bit-atoms such as the autonomous ships, drones or cyber-physical systems; however, the short term focus will be still on bits.
Shipbuilding will start to focus on bit-atoms in the next few years on a larger scale as well as atoms (e.g. 3D printing with new material); however, there may be some challenges it will face which are the same challenges other industries are facing. What other industries are encountering now is that innovation has outpaced regulatory bodies' ability to adapt and create new policy which has significantly slowed the amount of innovation throughput.
As mentioned above, regulatory and classifications can be an obstacle (as in other industries) but they also have an opportunity to be an enabler of innovations in the future. Since shipbuilding still has a few years before reaching the next inflection point, there is an opportunity in that we can learn from the leading technology industries' mistakes. I have seen some good signs from classification societies evolving and even driving some innovations. It will be important that this trend continue to handle new ship designs from generative designs, new materials being developed, autonomous ships, drones for inspection and for aiding ship services and many more.
---
Closing Remarks
No one that I know of can predict the future. It is virtually impossible because there are so many variables to take into account and the possibility of a black swan that could fundamentally change the environment we are using to predict the future. Because of this, all predictions are really guesses and/or dreams.
We know that change is hard and that the shipbuilding industry has not had a good track record in adapting to the changing landscape the last few decades. The rate of success with which the shipbuilding industry will incorporate new innovations into the art and science of building ships will largely depend on people. The people or organizations who define regulations and classifications play a significant role. Our industry visionaries' thoughts on the future can also motivate and rejuvenate our industry's decision makers.
Innovation has traditionally been either atoms (physical) or bits (digital). Increasingly, what we have been seeing now in other industries is the merging of the two creating innovations that are combining atom and bit components to create innovations in what I am calling bit-atoms.
The shipbuilding industry is lagging other industries and therefore we will have another few years focusing mainly on bits. When we finally move onto the next stage, we may come to a stage as other industries are at today where innovation will outpace regulators. The question will be for how long will regulators be left behind, or will shipbuilding regulatory bodies evolve and adapt faster?
This was the most fun and exhausting blog post series I have ever written. I really appreciate that you took the time to read my lengthy blog posts and would love any comment or ideas. While looking back I did seem to miss some topics about which I should have written; however, since I write often about shipbuilding and technology, I will plan to dedicate a full blog post to some of them.
---
Blog Posts in the Future of Shipbuilding Series