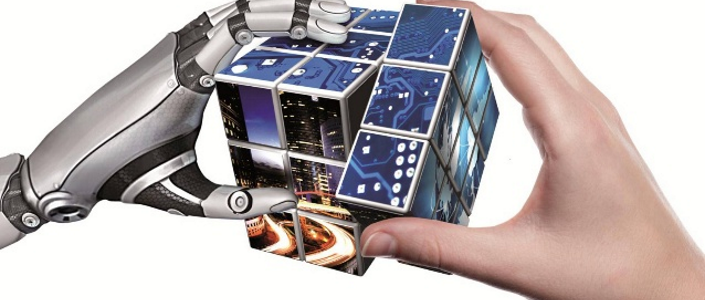 In part one of Future of Shipbuilding: Manufacturing I discussed the how the communication of manufacturing with other stakeholders before any manufacturing starts will change as well as how we will leverage Virtual Reality, Augmented Reality, 3D Printing, UAV Drones and Laser Scanning to improve communicate during and after manufacturing.
I will continue the discussion focusing on
Communication & Verification (Previous post)
Workers Safety & Security
Cyber-Physical Systems and Automation of Machines
Drones (UAV) & Autonomous Vehicles
Internet of Things (IoT)
3D Printing (Additive Manufacturing)

Digital Shipbuilding
Get a first-hand experience of what the design, build, and maintenance phases are like in an increasingly digital shipyard.
Experience now
---
2. Workers Safety & Security
Walking on the shop floor will look and feel much different in the future than it does today. One thing you will notice will be that when going through security you will get a special badge or vest that will wirelessly and "magically" transmit your location and monitor your vitals. This will not necessarily be because Big Brother wants to track every movement but rather will provide a level of security and safety for the workers.
From a security perspective it will ensure that only the personnel with the correct security clearance can enter the appropriate areas of the yard. This will especially be used for yards building military vessels but also will be used for commercial yards if they may have some Intellectual designs they do not want to share with certain visitors.
From the safety side of things, the badge or even a bracelet type of device will be able to report the worker's location and vitals. This can be specifically important when working in very harsh environments where workers can get dehydrated and suffer from various symptoms which can be fatal. This also includes when the worker needs to work in an enclosed area with the potential of having very little oxygen. The tracking device will notify the worker when levels are not within safety levels as well as transmit the location of the worker when they are critical. In case of an emergency such as a fire, the shipyard will know if all workers are safe and accounted for. This will significantly reduce the injuries and fatalities due to environmental factors but also general health issues.
This method also provides safety in the shipyard since it gives drones and cyber-physical systems awareness where personnel are so they can avoid any potential of an incident with the workers.
---
3. Cyber-Physical Systems and Automation of Machines
There will be several cyber-physical systems which will have a human and a robot work together. The robot will be aware of its surroundings including the human(s) they are working with. This means the robot will be able to respond and react to its environment to accomplish a task and never put the human at risk even when the worker is doing something they should not.
There will also be numerous machines that will work 100% autonomous with no user input at all. This is not too far from what we have in some shipyards today which receive information directly from a 3D model to cut a raw plate stock or even a profile. There is no need to have a human translate a drawing and input the data into the machine. These machines will also have auto loading capability either from the machine itself and/or a general purpose gantry which will load the material as well as take the end product to the appropriate location.
In addition, there may be some semi-automated systems that still require some human input. This is due to the complexity of some of the tasks required to build unique and complex items. Examples of this could be aiding a robotic welder to weld two blocks together or an automatic lifting and turning system which will requires some supervision and guidance.
---
4. Drones (UAV) & Autonomous Vehicles
One thing you will notice at the shipyard of the future is the use of drones (aka. Unmanned Aerial Vehicle (UAV)) and autonomous vehicles transporting materials and assets from one location to another location at the yard. This will allow yards to require less real estate for the shipyard. Aerial drones will move materials and assets during the night or off hours in order to prepare for the next shift. This will include bins of parts and materials such as rags, welding material, equipment, etc. This will closely resemble an Amazon warehouse where containers are packaged with a bill of material list of items required for the next day.
Drones will also be used by the shipyard and classification society to conduct verification and checks. These drones will be equipped with various types of sensors and camera which will capture the information needed to verify what has been constructed. This is similar to what has already been started in our industry by some classification societies.
http://www.marinelink.com/news/production-performs410794.aspx
http://www.marinelink.com/news/classification-solutions410795.aspx
---
5. IoT (Internet of Things)
Internet of Things (IoT) or variations of it (Industrial Internet of Things (IIoT), or Internet of Everything (IoE) ) will also change the landscape of the shipyard. IoT will allow sensors to track location of every single part in the shipyard as well as the environment the part is in. IoT devices will be extremely small and durable to handle the harsh environment of shipbuilding, it will require no additional power source and most importantly it will be so cost effective that they will be considered as disposable as today's paint stick.
These small devices will enable many of the technologies mentioned above from drone delivery and autonomous vehicle delivery to the ability to have real time knowledge of where every asset is located at the shipyard. Inventory of material will be automatically be managed by using the data provided by IoT.
IoT will provide valuable information on how the shipyard actually functions. This data will provide the Big Data required to get a holistic view of the shipyard and allow artificial intelligence algorithms identify patterns and suggest improvements.
IoT used on equipment can be used on the production machines on the yard including the new cyber-physical systems and drones deployed at the shipyard. The IoT on these devices will allow proper maintenance on the machines to identify when a machine needs attention. Once identified the machine can be scheduled for maintenance with the appropriate parts being ordered ahead of time.
---
6. 3D Printing (Additive Manufacturing)
In a previous blog post 3D Printing in Shipbuilding I talked about the uses of 3D printing in manufacturing. Some key drivers for 3D printing are the rapidly decreasing price of 3D printers, a lot of material research creating material that can be 3D printed and have favorable characteristics, as well as the ability of 3D printers being able to print very large structures such as cars and houses.
If this trend continues and there is no reason to think it will not, we will see 3D printers in many yards in the future. We will not be at a stage where the entire ship will be able to be 3D printed but there will be many portions of the ship where we will be leveraging 3D printing. Some major blocks where we will see 3D printing is in the super structure where we will leverage several new types of material such as graphene which is 100x stronger than steel, less corrosive than stainless steel, is eco-friendly being 100% reusable and has many other interesting characteristics.
With 3D printing we will be able to generate new designs which are not possible today because the cost of using today's manufacturing techniques would be too high. However, with 3D printing, the possibility of creating new and innovative designs will inspire a new set of creativity and we will start seeing designs that are unique, aesthetically appealing, very strong, with reduced weight, improved safety, and much more. This is a technology that will feed back into the engineering of a ship and potentially change the way we design ships. It will not matter what type of ship you are creating; everyone will have a 3D printer just as everyone today has a Plate Nesting CNC machine.
3D printing will also be used for creating some equipment and accessories. The ability for a supplier to be able to send their 3D printable part to your machine and for the yard to print it when it is required will be a common occurrence. Not all equipment will be printed like this but there will be a significant amount. This will reduce the amount of logistics and risk when it comes to suppliers sending physical parts.
Last but not least, 3D printing will be used to print shop tools and manufacturing aid tools. If a tool is broken, a request for a tool can be made and it will be 3D printed on the spot. Also, if a unique tool is required during a manufacturing station, a tool could be printed using the geometry of the parts to be assembled getting a perfect tool each time. Since the material used for the tool could be recycled, this process will be eco-friendly.
---
Closing Remarks
Manufacturing is probably the area where we will seem to have a lot of changes. This is mainly due to the fact that the majority of the changes will be made with things we can see and feel unlike in the design where most of the improvements will be digital.
Improved communication with the shipyard using technologies such as Augmented Reality and Holograms will transfer information much more clearly and will not require the shop floor worker to gain decades of knowledge to understand a 2D drawing. There may still be a 2D drawing in the shipyard but it will be framed up so that everyone can see what was used in "The Good Old Days.":)
Cyber-Physical systems and drones will create a symbiotic relationship with the human workers on the shop floor. The amount that will be accomplished will dwarf what we do today. This will be because humans will be able to do much more work with the aid of their robot counterpart. Robots will do much of the delivery of equipment and moving of assets will be done at night to prepare for the next morning shift.
IoT will be so low in cost that virtually every part will be tracked and monitored. This will enable a holistic real-time view of how the shipyard is operating. Additionally, with the ability to monitor an employee's health and location, we will be able to reduce and possibly even eliminate fatalities at the shipyard.
3D printing provides new and interesting designs since it removes many of the manufacturing constraints during designing. Also, because of the ability to print in new material that has the exact characteristics we require, we will see better aesthetically pleasing ships that perform better and cost less.
---
Blog Posts in the Future of Shipbuilding Series